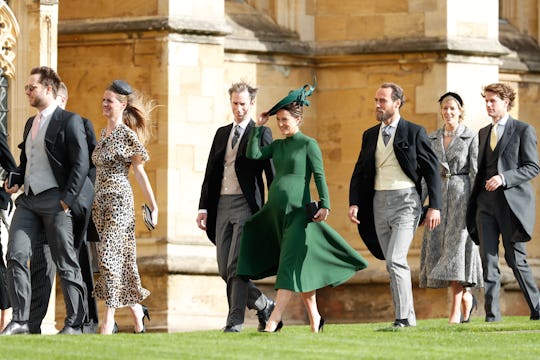 WPA Pool/Getty Images Entertainment/Getty Images
A Very Pregnant Pippa Middleton Subtly Arrived At Princess Eugenie's Wedding
Apparently nobody is missing a royal wedding if they happen to get an invite. Not even a woman who is expecting a baby quite literally any moment. Despite speculation that she wouldn't make it, a very pregnant Pippa Middleton showed up at Princess Eugenie's royal wedding.
The older sister of Kate Middleton, Duchess of Cambridge, is expecting her first child with husband James Matthews. The baby's rumored due date? Try not to be alarmed, but it's some time around exactly right now, as The Sun reported. But is she going to let a little thing like a looming due date to give birth stop her from throwing together a great wedding guest look and showing up at St. George's Chapel in Windsor Castle? Hell no. Pippa arrived wearing a forest green dress with matching fascinator looking as amazing as one would expect a Middleton to look. I mean, I don't want to be that girl or anything, but what is their secret? Probably something silly like eating healthy, drinking water, and exercising. Whatever Pippa might be doing, she looked healthy and happy as she arrived at Princess Eugenie and Jack Brooksbank's wedding alongside her husband and her brother, James Middleton. Her fascinator barely even budged in the brisk wind, unlike all of those poor other wedding guests who seemed to be chasing hats down the street as they arrived.
Some media outlets were so concerned about the possible overlap of Pippa Middleton's due date and Princess Eugenie's wedding that there was talk of Kate Middleton potentially missing the wedding in favor of being with her sister as she gave birth.
That was clearly not a concern.
Pippa was last seen in public checking out the Lindo wing of St. Mary's hospital in London, the posh maternity ward where Kate Middleton welcomed all three of her children. Which probably means she's getting ready to give birth any time now.
I'm quite glad Pippa was able to make it to Princess Eugenie's wedding, to be honest. It wouldn't feel like a royal wedding without her there. Especially after her rear end became an international sensation when she acted as maid of honor for her sister's 2011 wedding to Prince William.
And of course, when Pippa herself was married in May 2017, her wedding became a sort of unofficial royal wedding all its own. Not only was her sister Kate Middleton on hand, but also her husband Prince William and their two children, Prince Harry, and even Princess Eugenie and Jack Brooksbank.
Here's hoping Pippa Middleton is feeling well enough to enjoy a few post-wedding festivities at Royal Lodge, the York family home, on Friday. And here's really, really hoping that she doesn't go into labor at the wedding. Although I suspect Pippa Middleton is one of those women who is so in tune with her own body that she simply would not allow that to happen.
After all, giving birth in front of the Queen is just not done.