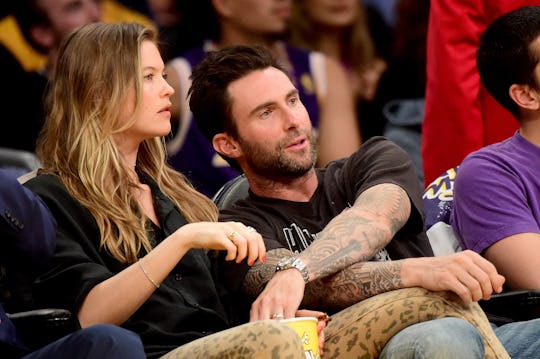 Harry How/Getty Images Entertainment/Getty Images
Adam Levine Just Posted The First Picture Of His Daughter And We Can't Even
I won't lie to you, guys; still not sold on the baby's name. For me, it hearkens back to a particularly dreadful satin bridesmaids dress I was forced to wear not once, but twice. The color? It was called "Dusty Rose". So yes, I might not love the name of Adam Levine's baby girl, but I am so super loving the Instagram picture Levine just shared of his daughter. That dude just knows how to hit a girl square in the feels.
Levine and his wife of two years, Namibian model Behati Prinsloo welcomed baby Dusty Rose on Wednesday. And I would like to thank them for the relatively brief reprieve they offered us all in the midst of the Brangelina meltdown of 2016. Little Dusty Rose and her beautiful parents (tattooed rock star dad, exotic model mom, so no pressure to be cool, kid) reminded us all that good things can still happen in the lives of the rich and famous. All is not yet lost. And ok, the name might be a bit polarizing, but this black-and-white Instagram shot of Dusty Rose napping on her dad's chest, with her mom writing in the caption "Words can't describe", totally makes up for my flashback memories of dusty rose-colored bridesmaid dresses.
If I were still in high school, I would have this picture enlarged to poster-size to hang over my canopy bed. That's how sweet this is.
The couple are so clearly in love with their sweet, sleepy new edition; how could we help but to be happy for them? According to E! News, a source close to the couple said:
"Adam was in the delivery room holding Behati's hands. They both cried when she was born. Both families are there now. She is beautiful. She looks like Behati."
The source added; "They are both speechless on how this moment feels as new parents. Dusty is healthy, sweet and happy baby!"
The Maroon 5 lead singer and judge of The Voice has been adorably vocal about his excitement to become a father. He rescheduled seven concert dates for an upcoming Maroon 5 tour to be available for his wife and new baby as Prinsloo's due date was drawing near. In an Instagram video, Levine said:
"Sadly, it's par for the course with having a baby soon. It's life, and it's beautiful, but it can be complicated, and I apologize for any convenience."
If Levine has anything to say about it, Dusty Rose could expect a whole gaggle of siblings one of these days (Levine said he wanted 17 kids on The Voice, so that's a thing).
For now, though, Levine looks pretty content to have a nap with just the one baby on his chest.