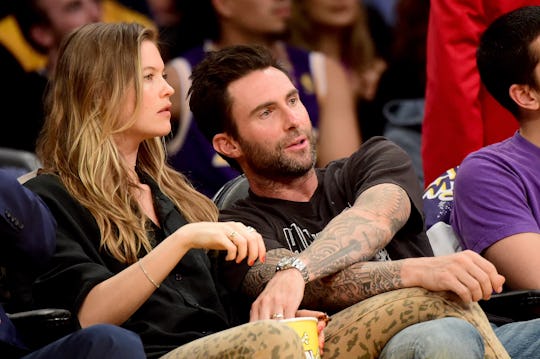 Harry How/Getty Images Entertainment/Getty Images
Adam Levine's "Pregnancy" Pic Is The Greatest Thing You'll See Today
I need to start by saying I've been on the fence with Adam Levine for awhile. He's funny and sort of sexy, then he had the blond hair and seemed a little harsh on The Voice... it was all a little perplexing. Now though, I'm a goner. Adam Levine released a "pregnancy" pic on Instagram Tuesday and it is basically the best thing that's happened to me all day (other than that cupcake I ate).
Maroon 5 frontman and The Voice judge Levine posed alongside his wife, Victoria's Secret model Behati Prinsloo, to show off the couple's matching, burgeoning "baby bumps" in the pic. Yes, they each showed off a little belly. What that proves is that Levine is essentially one of the best husbands ever. (Who doesn't want their dude to gain some sympathy weight while their pregnant, right?) To top it all off, gorgeous model Prinsloo was clearly glowing — and with a goofball husband like that, who wouldn't be?
"Week 20 and I'm finally popping! #impregnanttoo," Levine wrote in the Instagram caption. Totally cute.
The couple are expecting their first child — a little girl, Levine confirmed in April. Since getting married in July 2014, it's been an adorably exciting road for the two, especially when it comes to figuring out new cravings. According to Levine, Prinsloo, who's due in September, has been craving watermelon especially. "She's eating a lot of watermelon, a lot of watermelon," Levine said during a visit to The Tonight Show back in April. "Because, you know, they get random cravings for stuff, [but] it's just so much watermelon."
Levine has also been pretty open regarding his excitement about becoming a dad for the first time. "It's awesome," he told E! News recently. "I'm going to be a dad. Sh**, I'm excited. I'm going to be a f**king dad." He also said he plans to spoil his wife rotten.
Luckily for Levine, he has some pretty smart gals ready to dole out parenting advice to help him along, namely fellow Voice judges from Christina Aguilera and Gwen Stefani. An inside source told Hollywood Life recently that Levine "wants to be the Dad that changes diapers" and that he had "been talking to Gwen and Christina [and] loving their advice." "He is really taking the whole thing seriously," the source claimed. "He is very stoked to be the best Dad ever!"
Just looking at that Instagram pic of him goofing around with his wife, odds are he's going to love fatherhood even more than he could ever hope.