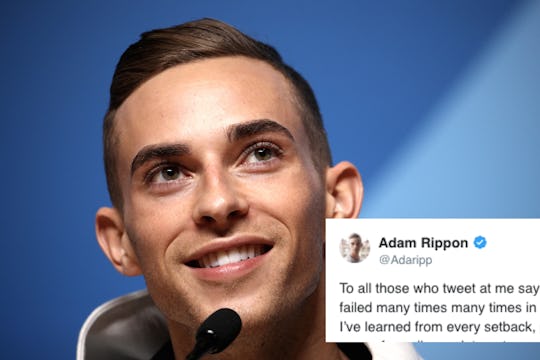 Chris Graythen/Getty Images Sport/Getty Images
Adam Rippon Brilliantly Shut Down Haters In A Single Tweet & Fans Are Losing It
Adam Rippon, the 28-year-old figure skater and first openly gay American athlete to win a medal in the Winter Olympics, has already gained a massive following of new fans since he showed up in PyeongChang. But for all of the new people cheering him on, Rippon has also gained his fair share of trolls and detractors (because, of course, humans are terrible). On Tuesday, however, the Olympic champion clapped back in a massive way: Rippon brilliantly shut down haters in a single tweet, and fans are applauding him all the more for it.
"To all those who tweet at me saying that they 'hope I fail,' I have failed many times many times in my life," the competitive figure skater wrote on Twitter. "But more importantly, I've learned from every setback, proudly own up to my mistakes, grown from disappointments, and now I'm a glamazon bitch ready for the runway."
Can we just take a moment to appreciate the beauty of that mic drop of a tweet? It manages to be honest, reflective, encouraging, and a hell of a clapback all in a single 224-character tweet. It's only one of Rippon's recent amazing lines — this man seriously deserves another medal for his personality alone — but it's easily a new fan favorite.
Some of the critics Rippon has gained recently might have something to do with his outspoken decision to forego any Team USA visits to the White House. "I won't go because I don't think somebody like me would be welcome there," he told the BBC in January, according to HuffPost. "I know what it's like to go into a room and feel like you're not wanted there."
He continued:
I think it's really important that we stand up for what we believe in, and we speak out against things that we think are wrong and unjust. ... If I talked to people the way that President Trump talks to people, my mom would kick my a—.
For all of the people who have told Rippon they hope he fails, however, there's far more expressing nothing but support. And when it came to Rippon's tweet on Tuesday, his fans came out en masse to applaud his spirit:
Rippon has also gotten plenty of love for speaking openly about being an LGBTQ athlete in the Olympics, writing on Twitter in December:
I was recently asked in an interview what its like to be a gay athlete in sports. I said that it's exactly like being a straight athlete. Lots of hard work but usually done with better eye brows.
He added in a separate interview that he didn't want his Olympics to be about Vice President Mike Pence, who is well-known for his questionable views on the LGBTQ community, or to be known solely as a "gay athlete" throughout the Olympics.
"Being gay and being an athlete... it doesn't f—ing matter," Rippon said in a video shared by Deadspin. He continued:
In so many articles, it's always 'gay Olympian Adam Rippon,' and I wear that title really proudly, but I'm not a gay Olympian. I'm just an Olympian. And now I'm an Olympic medalist. And I also happen to be gay. That's part of who I am. It has nothing to do with how I got here.
Here's to hoping Rippon keeps bringing it on the ice while serving up beautiful Drag Race-inspired clapbacks on Twitter. He might have already snagged a bronze medal, but he's still due to compete in the men's individual events this week. Something tells me that his skating prowess and new standing as America's sweetheart will have us all glued to the screen during his next performance.