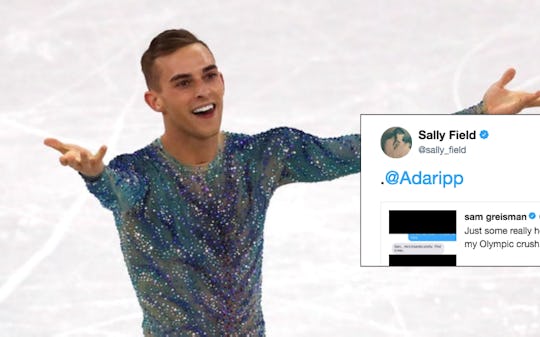 Dean Mouhtaropoulos/Getty Images Sport/Getty Images
​Adam Rippon Had A *Priceless* Reaction To ​Sally Field Playing Matchmaker For Her Son
The world has fallen in love with Olympic figure skater Adam Rippon, but one celebrity has been hilariously pushy about locking him down. See, American treasure Sally Field wants the Olympian to date her son and now, Adam Rippon's response to Sally Field attempting a set-up is priceless. Please let this be the start of a timeless romance.
On Monday, Rippon stopped by the BuzzFeed studio, where he got to chat about Field's advances on behalf of her son, Sam Greisman. A few days ago, Greisman and Field were texting about Greisman's crush on Rippon (I mean, who wasn't texting about how Rippon is a beautiful unicorn man who can ice-spin for what seems like forever?), and Field responded, "Sam... he's insanely pretty. Find a way..." Then, like any good meddling mother, she decided to take matters into her own hands, and promptly tweeted the screenshot at Rippon.
Rippon didn't respond publicly on Twitter, but he definitely had something to say when talking to BuzzFeed about it. First of all, apparently, he just screamed. Then, he said, "Sally! She bold!" Then finally — and most importantly — he reportedly said, "Sam, your mom — I admire her. And I'm sure one day we're going to meet! So thanks, mom."
Thanks mom indeed! If Sally Field ends up as Adam Rippon's mother-in-law, the world will once again seem like a good place.
Rippon took the 2018 PyeongChang Winter Olympics by storm, with his dazzling moves on the ice and his hilarious commentary off of it. He's also made headlines for making history. He and skier Gus Kenworthy are the first two openly gay American athletes at the Winter Olympics, which has made for all sorts of significant and meaningful moments, like Kenworthy's casual televised kiss with his boyfriend on the slopes.
People have been fascinated by Rippon, and he's been handling it in the best way possible, namely with this Valentine's Day tweet:
Up until this point, the love story has been one-sided, with Greisman, a 30-year-old writer and director, not at all shy about expressing his admiration for Rippon on Twitter before his mother got involved. On Friday, he tweeted:
I hate being earnest but an openly, "non-passing", sassy, beautiful gay 20-something daring America not to love him and becoming the sweetheart of the Olympic Games is very moving to me.
He also told a story about how the gender norms enforced in figure skating affected him when he was a little boy, writing, "In '94 I made my mom buy me skating lessons and when they wouldn't let me wear the white booties over my skates like the girls, I cried," before lauding Rippon for breaking down barriers.
And, finally, he got right to the point in an earlier tweet, writing, "Marry me Adam."
But of course, it took a pushy mother to bring things to the next level. Enter Field, an Oscar and Emmy winner who made audiences cry in Steel Magnolias, laugh in Mrs. Doubtfire, and want to start some labor unions in Norma Rae.
How could anyone say no to Sally? Everyone likes her, they really like her!
Obviously Rippon is a little busy at the moment. He's currently still at the Olympics, cheering on his friends and teammates as part of Team USA, even though he was offered a position as a correspondent with NBC. And he's sure to be flooded with offers of all sorts, from spokesperson roles to romantic overtures, when he comes home.
But here's hoping that Rippon and Greisman actually get to meet up at some point. After all, Sally Field is one talented lady, and I'd be willing to bet that she's an excellent matchmaker.
Check out Romper's new video series, Bearing The Motherload, where disagreeing parents from different sides of an issue sit down with a mediator and talk about how to support (and not judge) each other's parenting perspectives. New episodes air Mondays on Facebook.