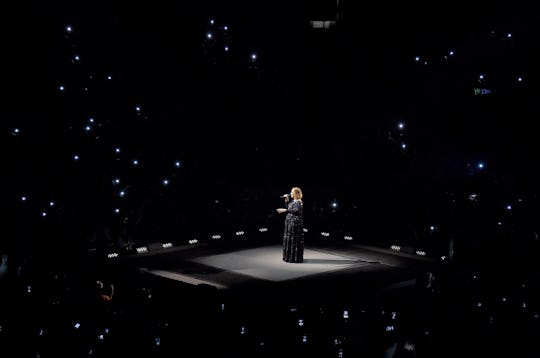 Ethan Miller/Getty Images Entertainment/Getty Images
The Grammys Crowd Gave Adele A Standing Ovation
Adele is real. She is flawed, and honest. She swears, she doesn't get everything right every single time, and this is why we love her. At the 2017 Grammys, Adele opened the show with "Hello" and it all went well. She sounded beautiful, looked gorgeous, and all of the tech stuff worked. And then things went south for her later on in the show. And yet... Adele got a standing ovation after having to restart her Grammy performance in tribute to the late George Michael. It was a truly beautiful moment.
Adele was in the middle of performing Michael's song "Fastlove" when she started to look upset, as though something was wrong. She started to look flustered and faltered a little while she was singing, and then she asked the band to stop playing during a live performance at the Grammys (which essentially never happens) so that she could start over. The producers had to mute her cursing, for which she immediately apologized, and said:
I know it's live TV… I'm sorry for swearing, and I'm sorry for starting again.
Adele went on to say she needed to stop because she "can't mess this up for him," meaning George Michael, who passed away in 2016. Then she simply started again, after taking a minute to collect herself:
This isn't the first time Adele has struggled with technical issues; she struggled through singing "All I Ask" at the 2016 Grammys. In an interview with Ellen DeGeneres after the show, the 28-year-old singer admitted that she "cried all day" and vowed (in a sort of spooky premonition):
Next time I have any sound issues, I am going to start over. [I will tell them,] 'Sorry, that's not working for me.' Otherwise… bye! In fairness, I would have cried if it went really well. If it was a standout performance, I would have cried as well. I always cry. I was so embarrassed...It can't get much worse than the Grammys.
She was absolutely true to her word (though I doubt she planned to drop the f-bomb during a live performance, but this is the beauty of Adele). And the audience totally supported her.
It's easy to appreciate a seamless performance when everything goes off without a hitch, but there's something special about an artist so dedicated to their craft, so respectful to an artist who has left us, that they're willing to risk starting over, stopping the show, and trying again.
The audience was in tears by the end, and so was I.