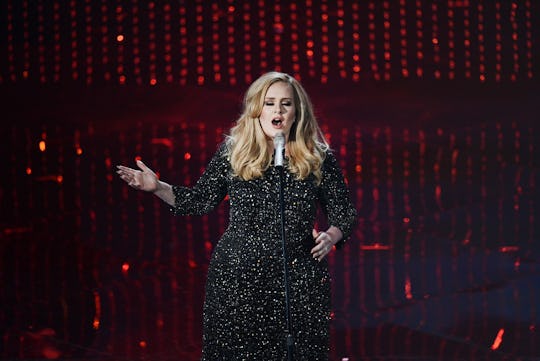 Kevin Winter/Getty Images
Adele Sings "Hello" In First TV Appearance Since 2013, Slays It (Of Course)
Adele hasn't performed on-screen since delivering her epic Skyfall anthem at the Academy Awards in 2013, so who wouldn't be excited to watch the teaser for Adele's one-hour BBC special? In which, yes, she sings! The preview includes a live performance of the irresistibly catchy "Hello," along with an interview with host Graham Norton.
In the teaser (watch it here) for the special, set to air Nov. 20, the 27-year-old songstress talked about returning to the studio to record her third album, 25, along with parenthood, Twitter, and how 25 will do in light of the success of her last album, 21. The 2011 album sold 30 million copies, but she says its wild success didn't impact her creation of the new album. "I feel like every album I'm ever going to write is always going to be following 21," she told BBC One. "Even no matter what this album does, my next record's going to be following 21."
She also addressed the time gap between her albums, attributing it to the birth of her son Angelo in 2012 and some self-reflection. "I did pretty much write an album about being a mum but that's pretty boring. I scrapped that," she admitted to the BBC, calling her new album a "make up record." She says the album was a turning point in her life, marking her entrance to adulthood, and explained: "I'm making up with myself. Making up for lost time. Making up for everything I ever did and never did."
So far, however, 25 is lining up to be a smash hit. Adele's music video for Hello recently broke the record for number of views on Vevo in 24 hours, stealing the title from Taylor Swift's Bad Blood at a skyrocketing 27.7 million views (I may have contributed one or two of those).
Adele at the BBC will air Nov. 20 on BBC1 at 8:30 p.m., the same day 25 will be released. I know what I'll be tuning into on the 20th — then listening to on repeat, all day everyday.