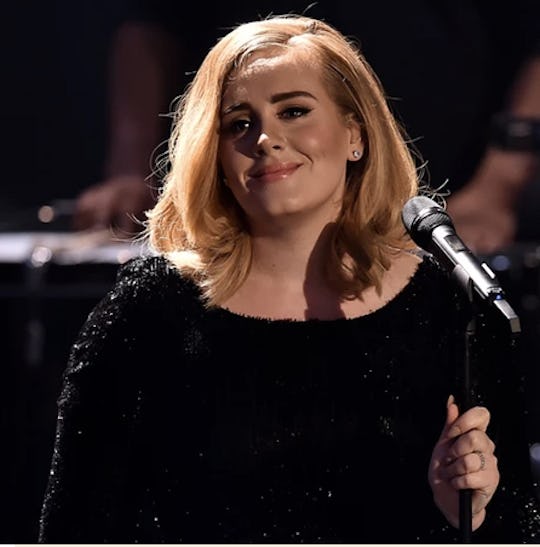 Adele's 7 Best Quotes On Motherhood Make It Clear That She's Grown Up & Still Growing
Her son Angelo's vocals appear on the song "Sweetest Devotion," but Adele is choosing to keep her child out of the spotlight for now. But what else does Adele have to say about motherhood? The British superstar has had quite a year with her album 25, not to mention her North American concerts selling out in record time. With Angelo, her heart now lives outside her chest. As for being a mom, Adele says motherhood helped her mature. "It's the main reason I grew up," she told USA Today on Dec. 14.
Angelo's dad and Adele's partner is entrepreneur and philanthropist Simon Konecki , 41. When it comes to love, the songstress said she was done with little boys and prefers an older gent because who can keep up with her boss lady status. "I've had boys all my life, and it's so much better if you have a man. Boys are insecure; they can't keep up with me. When you have a proper man, it's different. Nothing fazes him. I love him." I'd also venture to say that it takes a man who's secure in his own skin to partner with one of the world's most iconic music stars.
As for the other man in Adele's life, the songstress has been pretty blunt about the challenges of motherhood. Remember her famous quote on parenting to i-D Magazine back in October, when Adele said motherhood is "f**king hard." Well, she's said some other inspirational things about being a mom that are worth listening to.
Motherhood Helps You See The Future
"I'm looking into the future, into the next 20 years," Adele told USA Today. "Before it was all about what you'd do on Friday, plans for the weekend."
Motherhood Helps You Take Personal Inventory
"I'm also looking back at my past," she told USA Today. "And deciding what to take with me."
Motherhood Makes You Worry Less (Yep, You Read That Right)
"I simply don't have the capacity to worry about as many things that I used to really enjoy worrying about," she told i-D Magazine.
Motherhood Helps You Get Your Hustle On
"I'm moving forward in a massive way, in a way I didn't think I'd be doing for another ten years," Adele told USA Today.
Motherhood Makes You More Forgiving
"Now I'm a mum," she told i-D Magazine, "I can really hold a grudge. Life is so much easier when you don't hoard your past."
Motherhood Is About Taking Responsibility For Another Human's Major Choices (For A While Anyway)
"Right now he can choose if he wants a bag of crisps or a banana," she told USA Today.
Motherhood Makes You Appreciate Me Time
"I hope as he gets older, I have a little me time as well," she mused to USA Today.
So, hello? (Sorry, I couldn't help myself). Have you got these down? Adele has waxed poetic on so many I can't even moments in a woman's life, it's no shock that what she has to say about motherhood is pretty on point.
Images: Getty Images; Giphy (7)