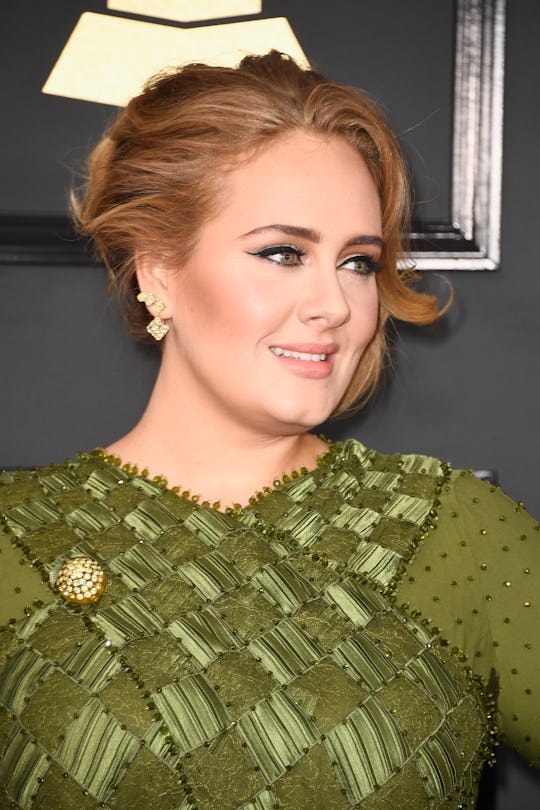 Frazer Harrison/Getty Images Entertainment/Getty Images
Adele's Grammys Tribute To Beyonce Is A Must See
Like most award shows, the 59 annual Grammy Awards is all about pinning iconic artists against one another. Sure, we appreciate the competition and the drama, but how awesome would it be if the artists simply supported one another instead? Well, that question has been answered, dear reader. Adele's lemon pin at the 2017 Grammys could be supporting Beyoncé, proving there's nothing better than women supporting women.
Of course, the reason behind the gold and diamond lemon-looking brooch remains to be seen, and it may be a little bit of forward, wishful thinking to assume Adele is paying homage to her competitor in the Album Of The Year and Song Of The Year category. However, the lemon-looking highlight to Adele's forest green Givenchy gown with long sleeves and an intricately woven bodice is pretty noticeable and, like almost everything Adele seems to do, there must be a reason behind it. Plus, in an industry (let alone a society) that profits off women viewing one another as rivals instead of collaborators, a subtle nod that essentially says, "Hey, I know we're vying for the same golden trophy thing, but I'm not your competition, I'm actually one of your fans," is nothing short of welcomed and worth celebrating.
The subtle Beyoncé-shout out wasn't lost on Grammys viewers, either. More than a few fans of both Adele and Beyoncé took to twitter to voice their collective excitement at the simple thought that one powerhouse pop star could be showing her support for another. Here are just a few tweets about Adele's "Go Beyoncé!" brooch.
During the 2017 Grammys red carpet and the pre-show talk, most viewers and television personalities were discussing not only who would win Album Of The Year between Adele and Beyoncé, but who would be labeled as the "best performer of the night," as both Adele and Beyoncé are slated to hit the stage (by the way, Beyoncé will be doing so with three heartbeats, as she is famously pregnant with twins).
Adele's brooch, may not entirely intentional, is sending a powerful message: who cares who "wins?" The Grammys shouldn't be about women going up against other women (and, hell, neither should life) but, instead, it should be about women supporting women, artists supporting artists, and all of us collectively celebrating the amazing work that everyone on the red carpet has contributed to the music and art world last year. As we all continue to make our way through a tumultuous political climate, Adele's brooch is worth remembering. When you can, simply support one another. Always.