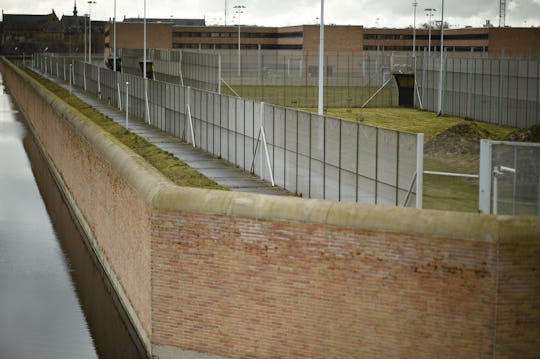 JOHN THYS/AFP/Getty Images
Adnan Syed Will Get A Retrial After 16 Years In Prison, Thanks In Part To 'Serial' Podcast
The man who was convicted of murdering his girlfriend in 1999 and became the subject for the first season of the popular podcast Serial, Adnan Syed, has been granted a retrial by a Baltimore judge. Syed has been in prison for 16 years and is serving a life sentence for the murder of his then-girlfriend Hae Min Lee. He has maintained his innocence ever since.
Retired Baltimore Judge Martin Welch ordered the retrial on Thursday. Welch wrote that Syed's trial lawyer at the time of his conviction, "rendered ineffective assistance when she failed to cross-examine the state's expert regarding the reliability of cell tower location evidence. The court finds that trial counsels performance fell below the standard of reasonable professional judgment when she failed to cross-examine the state's cell tower expert regarding a disclaimer obtained as part of pre-trial discovery."
Syed's lawyer C. Justin Brown tweeted the news about Syed's retrial on Thursday and feels confident about his client's chances. At a press conference in Baltimore on Thursday, he told reporters, "I'm feeling pretty confident right now. This was the biggest hurdle. It's really hard to get a new trial."
According to The New York Times, when asked if Syed's retrial could have happened without having been featured on Serial, Brown said, "I don't think so.'
Syed's case was the subject of the first season of the wildly popular Serial podcast, hosted by Sarah Koenig. Her investigative reporting actually managed to uncover evidence to support Syed's innocence including a pivotal alibi witness, Asia McClain, who was never called to the stand in the original trial. The show premiered as number one on iTunes before it even began, and became a minor obsession to listeners fascinated by Syed's case (and claims of innocence) throughout the season. The Serial website described the case previously as follows:
It's Baltimore, 1999. Hae Min Lee, a popular high-school senior, disappears after school one day. Six weeks later detectives arrest her classmate and ex-boyfriend, Adnan Syed, for her murder. He says he's innocent - though he can't exactly remember what he was doing on that January afternoon. But someone can. A classmate at Woodlawn High School says she knows where Adnan was. The trouble is, she's nowhere to be found.
More evidence to support Syed's innocence was uncovered by family friend Rabia Chaudry on her own podcast, Undisclosed. Chaudry was responsible for bringing Syed's case to Koenig's attention in the first place, and her work on Undisclosed provided information about the cell tower reliability which ultimately brought about Syed's retrial.
While supporters of Syed celebrate his retrial, the family of victim Lee still believe he is guilty. In a statement released in February, the family said, "It remains hard to see so many run to defend someone who committed a horrible crime, who destroyed our family, who refuses to accept responsibility, when so few are willing to speak up for Hae."
Hopefully this time around, the truth will out.