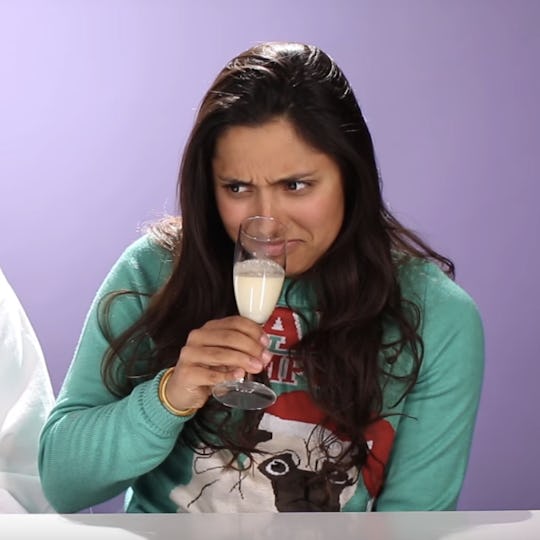 Adults Tried Breastmilk For The First Time, & Their Reactions Were So Surprising — VIDEO
Breast milk is a beautiful, magical thing. It keeps your baby fed, healthy, and happy. Plus, there are tons of other random benefits of breast milk, like the fact that it works as a natural antibiotic, is said to combat eye infections, and is always the perfect temperature. Then there are all the positive side-effects of breastfeeding for moms, like the fact that it's a natural contraceptive (not 100% effective; use other birth control, friends), potentially makes you lose weight if that's something you care about, and even protects moms against anemia. Breastfeeding, in short, is powerful for the people on both sides of the equation.
Yet, although we know and understand how awesome breast milk is, when it comes to the idea of drinking it beyond infancy, many of us get a bit squeamish. I know I felt that way once. I still recall the first time I heard about a London shop serving human breast milk ice cream and being significantly weirded out. But then I had a baby and curiosity got the best of me, and while I never had more than a tiny sip, it didn't seem bad to me.
In this new BuzzFeed video, six willing participants were asked to try human breast milk. Only, not just a sip — they were given full glasses of the stuff. The milk was provided by Ochi, a new mom who was happy to donate but feared that those who tried it would say "this is gross." Here's how they reacted: