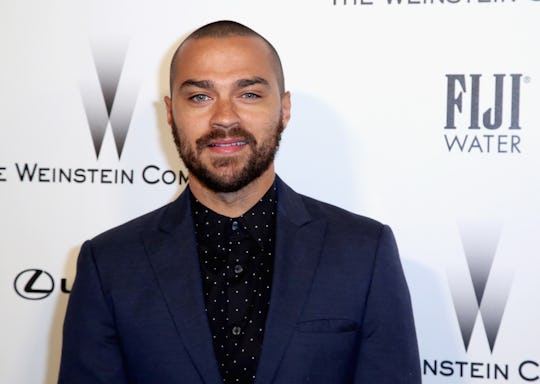 Ari Perilstein/Getty Images Entertainment/Getty Images
After Alton Sterling's Death, Jesse Williams' BET Speech Is More Relevant Than Ever
Grey's Anatomy star Jesse Williams caused a stir at Tuesday night's BET Awards with his acceptance speech. The actor was awarded the Humanitarian of the Year award, and delivered a powerful speech about racism and justice. And while people are lining up on both sides of the issue (supporters are lauding his courage, detractors are calling for his removal from Grey's), after Alton Sterling's death, Jesse Williams' BET Awards speech is more relevant than ever.
In his impassioned speech, which was easily one of the most compelling moments of the night, Williams talked about freedom, about different types of racism, and about law enforcement.
"We've been looking at the data and we know that police somehow manage to de-escalate, disarm, and not kill white people every day," Williams said. "So what's going to happen is we're gonna have equal rights and justice in our own country or we will restructure their function, and ours."
In the week since Williams gave is speech, much has happened. An online petition calling for Grey's Anatomy creator Shonda Rhimes to fire Williams was started on July 1, and has seen more than 6,900 signatures. A separate petition was started by Change.org to support Williams, and this petition has been signed by more than 34,000 fans.
On Tuesday morning, Alton Sterling, a Louisiana man who was selling CD's outside a storefront, was shot and killed by a Baton Rouge police officer, according to Vox. It's unclear what he was doing to warrant being shot, lending credence to Williams' words about the power of law enforcement and the inequality of the way that law enforcement handles people of color.
In a horrific video that has gone viral on the internet, Baton Rouge police officers can be seen pinning 37-year-old Sterling to the ground before fatally shooting him. The Baton Rouge Police Department released a statement via Facebook about the incident.
OFFICER INVOLVED SHOOTING ON NORTH FOSTER DR
Baton Rouge Police are investigating an officer involved shooting that occurred around 12:35am this morning at 2112 North Foster Dr, Triple S Food Mart. Uniformed officers responded to a disturbance call from a complainant who stated that a black male who was selling music cd's and wearing a red shirt threatened him with a gun.
Officers made contact with ALTON STERLING, 37, 6061 Plank Rd, in the parking lot of the business. An altercation between Sterling and the officers ensued. Sterling was shot during the altercation and died at the scene.
Two BRPD officers have been placed on administrative leave per standard procedure.
This is an ongoing investigation.
The Baton Rouge Police Department continues to maintain that it was called to the scene on Tuesday by an anonymous tip saying Sterling was threatening people with a gun. And while the video that shows officers holding Sterling on the ground before shooting him has yet to be authenticated, Michael McClanahan of Baton Rouge's NAACP has called for the police chief to be fired.
Jesse Williams' speech at the BET Awards was given just one week before Sterling was shot. He could not have known what would happen that night in front of the convenience store in Louisiana. He could not have known that Sterling would be shot by police. He could not have known the maelstorm of anger that would have struck because of the shooting.
And yet his speech spoke to the heart of the problem. His Humanitarian of the Year award was clearly well deserved, and the issues about which he spoke cannot be ignored.