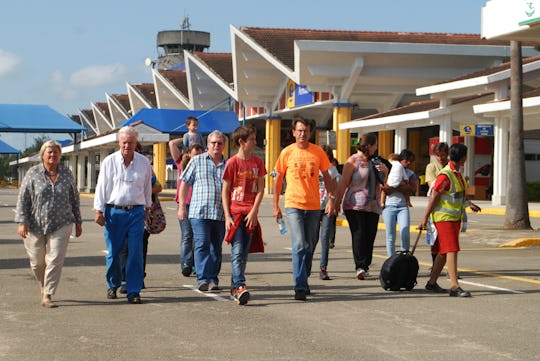 Getty Images
Air France Flight Grounded After Suspicious Device Found In Bathroom — What We Know So Far
After an Air France flight was grounded in Kenya Sunday due to a suspicious device, authorities are still searching for a possible bomb on Air France flight 463. The plane was on its way from Mauritsia to Paris when it made an emergency landing around 12:37 a.m. at Moi International Airport in Mombasa.
Update: Authorities have determined that the device found on the plane was not a bomb at all. Air France CEO Frédéric Gagey said that explosives were not found on the device that was made of cardboard, paper and a timer. Gagey also insists that there was no failure in security checks.
According to Kenyan officials, a package was spotted in the plane's bathroom that "looked like a cardboard box with a stopwatch taped to it." A passenger saw it and reported it to the crew. Bomb experts are examining the cardboard box and digital watch, but have not yet determined whether or not it is an explosive. Authorities are questioning six individuals who were passengers on the flight, according to CNN, and the investigation is ongoing.
The Kenyan airport posted on Twitter that: "The object, believed to be an explosive device has successfully been retrieved from the aircraft." Also, all passengers had been screened and taken to a hotel.
The airport was shut down temporarily, but it's now back open and flights are running as scheduled. The plane was carrying 459 people and 14 crew members, who were all evacuated safely. One passenger told the AP that he didn't even know what was going on (which is sort of the point during a bomb scare evacuation). Passenger Benoit Lucchini said:
The personnel of Air France was just great, they were just wonderful. So they keep everybody calm. We did not know what was happening.
There were mainly tourists on the flight, since Mauritius is teeny tiny island in the middle of the Indian Ocean, popular with the French.
France remains under a state of emergency since the Nov. 13 attacks in Paris and this is the third Air France flight that has been diverted since two other planes were grounded due to bomb threats on Nov. 18.
This story is developing...
Image: AFP/ Getty Images