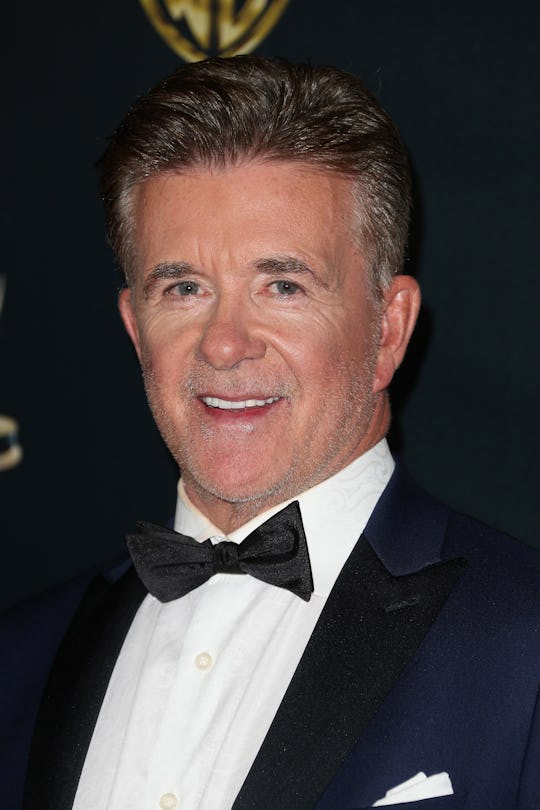 Frederick M. Brown/Getty Images Entertainment/Getty Images
Alan Thicke's Last Instagram Serves As Another Reminder Of His Iconic Career
Alan Thicke, a beloved actor, singer, and songwriter died on Tuesday at age 69. Since news of his death was confirmed, fans, celebrities, friends, and loved ones of Thicke have taken to social media to honor the actor's life and his influential work. And Thicke's last Instagram post serves as another reminder for how many will remember the Canadian actor: "Iconic."
The Whistler Film Festival, held in Whistler, British Columbia, recently awarded Thicke with its WFF's Canadian Icon Award, which is awarded to someone whose "tireless work expands beyond our borders yet is someone who remains a beloved ambassador of the Canadian spirit."
Thicke, who was born in Kirkland Lake, Ontario, according to The New York Times, shared a picture of himself on Instagram and on Twitter on stage at the film festival on Tuesday morning. He thanked the film festival for the award in a caption accompanying the photo.
"Thanks to Whistler Film Fest for the Icon Award," he wrote. "I promise to try and stay iconic."
Thicke's award was part of the festival's "Signature Series" in which the festival recognizes "distinguished artists" by honoring them with an award during an interview on stage. The event took place on Dec. 2, according to the festival's website.
"Iconic" has certainly been one of the many supportive words used by fans honoring Thicke's life on social media. Thicke's memorable role as Dr. Jason Seaver on classic 1980s' and 1990s' sitcom Growing Pains, put him on the list of top ranking "50 Greatest TV Dads of All Time," by TV Guide, as the Times reported. The show, which centered around core family values and the ever-caring dad, Dr. Seaver, was a successful and popular show that achieved high TV ratings and lasted for seven seasons.
Thicke told the A.V Club in 2010 that he was proud of the show and what it stood for, according to CNN:
Loved it. Proud of it. Proud of what it stood for. I share the corny family values espoused on that show... It was a great opportunity that made my life good and something that I can show to my 12-year-old now in reruns. Corny and dated as it is, it's still relatable, understandable, and he can look at it and say 'Yeah, I get it. Now I see what you did before I was born.'
Thicke's talents went beyond the realm of acting. As the Times reported, Thicke wrote the theme songs for a number of game shows and sitcoms, including Celebrity Sweepstakes, the original Wheel of Fortune, Diff'rent Strokes, and The Facts of Life.
In an interview with the Associated Press, Carleen Donovan, a publicist for one of Thicke's sons, singer Robin Thicke, confirmed Thicke died of a heart attack on Tuesday.