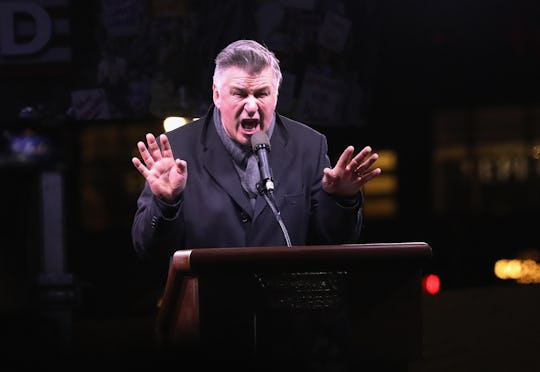 John Moore/Getty Images News/Getty Images
Alec Baldwin Says Donald Trump's Hair Was Birth Control & It's So Darn True
Alec Baldwin plays a terrific Donald Trump, and you can't argue with that. During this past season of Saturday Night Live, Baldwin brought humor to the disaster happening in the Oval Office, which is why he just won an Emmy for his role. But during his acceptance award, Baldwin had to give a shoutout to his wife, who put up with his Trump antics. Seriously, at the Emmys, Baldwin said Donald Trump's hair was birth control — and that could not be any more true or hilarious.
So here's exactly what went down. Baldwin won and accepted the award for Best Supporting Actor in a Comedy for his role as Donald Trump on Saturday Night Live during the Emmy broadcast. His acceptance speech started like any other — he thanked his beautiful wife, Hilaria, and his children. But Baldwin made the best dad joke possible during his acceptance speech. Baldwin mentioned that his wife has been pregnant for a lot of their marriage (they had three young children together within three years), but she did not get pregnant this past year because "the orange wig was birth control."
Baldwin said, according to E! News:
I suppose I should say at long last Mr. President, here is your Emmy. I wanna thank my wife, my wife and I had three children in three years and we didn't have a child last year during the SNL season and I wonder if there's a correlation there. All you men out there, you put that orange wig on, it's birth control. Trust me.
Um, yes. If my significant other moonlighted as Trump every Saturday, I too would be put off from intimacy. Forget condoms or The Pill, Donald Trump wigs effectively prevent 99.9 percent of pregnancies! (This a joke, please don't test this theory).
Since 2013, Baldwin and his wife have welcomed a daughter, Carmen, and two sons, Leonardo and Rafael. Sure, some of their children are still in diapers, but they could not be any cuter as a family. Maybe it is best for them to take a break and enjoy life as parents (but they can also keep on making super cute kids).
This lack of pregnancy for 2017 could be because Baldwin has been so incredibly hard at work perfecting his Trump impression and keeping the jokes fresh for the millions of people who tuned in to watch each week. Baldwin's impression was undoubtably one of the more positive aspects of Trump getting elected president, if only because it is so on point and says exactly what everyone is thinking. The wig makes his look. According to the New York Times, the wig "transforms the actor" immediately. Without it, Baldwin is really just a guy and an impression.
Luckily for Hilaria, the transformation into Trump only takes seven minutes, according to the New York Times. Although people have fallen in love with Baldwin's take on Trump, she probably doesn't want to see that every night before she goes to bed. I don't blame her.
While Baldwin's impression of Trump is now iconic, Baldwin did say in an essay in Vanity Fair that he was initially indifferent and reluctant to play the president. Luckily for him, that impression won him an Emmy award. Not bad.
If Baldwin and his wife are looking forward to getting pregnant any time soon, it sounds like he'll have to stop wearing that wig. Unfortunately for the couple, Baldwin has three more years of his impression. If the wig is as good of birth control as Baldwin says, then maybe we'll see Hilaria pregnant again in, oh, three years and three months from now (but who's counting?).
Watch Romper's new video series, Romper's Doula Diaries:
Check out the entire TK series and other videos on Facebook and the Bustle app across Apple TV, Roku, and Amazon Fire TV.