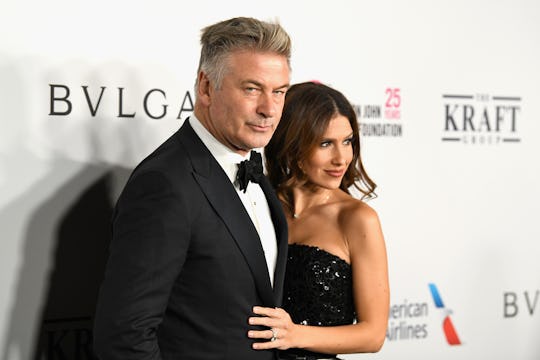 Slaven Vlasic/Getty Images Entertainment/Getty Images
Alec & Hilaria Baldwin Welcome Baby Number 4, & They Look So Happy
I never really thought of Hilaria Baldwin and I as similar. She's a yoga instructor, has super shiny hair, and makes parenting look easy on Instagram. Also married to Alec Baldwin, no less, who is a real looker when he drops the Donald Trump impressions, to be honest. But it seems Hilaria and I have one thing in common: lots of kids. In fact, Alec and Hilaria Baldwin just welcomed baby number four, which means she should now consider herself a next-level mom. As a mom of four I can tell you... she's in the big leagues now, and girl, there is no turning back.
The couple are already parents to 4-year-old daughter Carmen, 2-year-old son Leonardo, and 19-month-old son Rafael. Alec is also father to 22-year-old daughter Ireland from his first marriage to actress Kim Basinger. Now they've added a new baby boy to the happy not-so-little brood! Hilaria took to Instagram on Thursday, May 17 to share a sweet pic of herself with her husband and their new baby, looking tired, of course, but mostly content. As for Alec... he looked like he could barely contain his joy! The fitness guru captioned her photo, "He's here! He's perfect! 8 lbs 2 oz #wegotthis2018."
The new baby boy, whose name has not been shared but I feel like it might have a classic Italian painter name if his older siblings are anything to go by, did not waste a moment arriving. On Thursday morning, Baldwin shared a picture of herself on Instagram, still pregnant, with the caption:
Earlier this morning...wish me luck. Bye bye baby bump 💛
A mere six hours later, she was back on Instagram with a picture of her baby boy in her arms. Now that's impressive.
This is the couple's third son, and they shared a cute gender reveal video back in November 2017 by cutting into a beautiful blue cake. In the Instagram video, Alec breaks into a wide grin when realizing he's welcoming another son and gets his kids to thank the "magic cake." As for Hilaria; she said she was excited to welcome another boy into the family, but she also told Us Weekly that everything felt "wild," at that moment:
Everything is wild! The cake cutting went great … Although I was having a heart attack with blue food coloring everywhere. Carmen kept grabbing it out of my hand and I kept yelling, 'No, I'll do it!' my fingers are a little bit blue today.
Hilaria Baldwin also admitted to Us Weekly that she was "in shock" at finding out the new baby was a boy:
I cried when I found out! I wasn't upset about it but I was overwhelmed! I really do believe that this baby was meant to be and will come and we'll be completely obsessed with him. So no, I don't wish he was a girl. With that being said, Carmen was a little disappointed because she's been wanting a little sister! I don't know if I can do 5!
Hilaria might not think she has it in her to have five kids, but her kids might. When she was asked by Hola! USA about how she parents with her husband, there was apparently no question as to who the boss in the family might be:
I am the boss at home and everybody knows that. They call me that. You ask them, 'Who is the boss' and they'll say 'Mommy is the boss.'
Still, being the boss of four little kids probably looks pretty different from bossing around five, especially when they all turn into teenagers. Something they'll end up doing very close together, so maybe she's right.
But for right now, she can just relax and enjoy her new baby, her three older kids, and her husband.