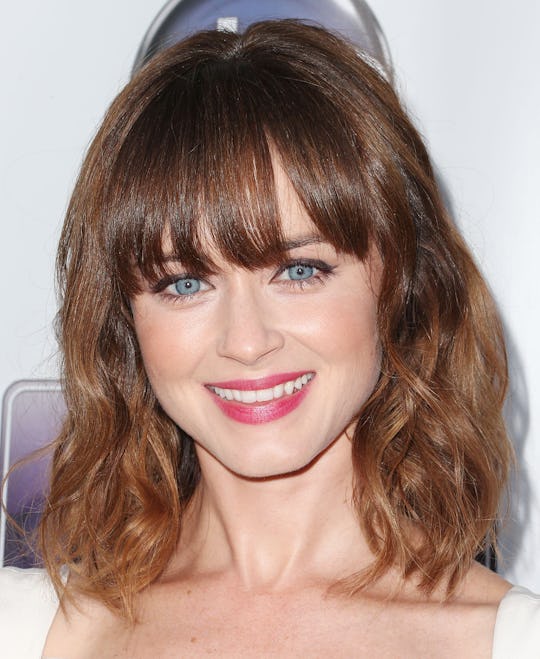 Frederick M. Brown/Getty Images Entertainment/Getty Images
Alexis Bledel's Quotes About Her Son Are Impossible To Find
Here is what we know about Alexis Bledel's personal life: she has brown hair and blue eyes. She has good taste in clothes. I'm assuming she probably eats food and drinks liquid sometimes since she is still alive. Also, more recently, fans found out that Bledel has a husband and a son — but she didn't seem to want people to know. So, good luck finding Alexis Bledel quotes about her son, guys. That Rory Gilmore likes to keep things under wraps.
Alexis Bledel and her husband, Mad Men star Vincent Kartheiser, had their baby boy last fall and told no one. They certainly didn't tell me even though I am both a loyal Gilmore Girls fan and an avid Mad Men fan. So if they were going to share their news with anyone, it really should have been me. Instead, I had to find out from Scott Patterson in his interview with Glamour magazine about the Gilmore Girls reboot on Netflix. Patterson let the cat out of the bag about little Rory Jr. (which also confused me because I feel like Luke Danes from Star's Hollow would have probably kept the secret for Rory).
She's really blossomed as a woman and now she's a proud new mother and married and happy. I remember her as an 18-year-old kid, fresh out of college coming into Hollywood and being a little overwhelmed. She's just the most likable, intelligent person and adorable human being. She doesn't seem to fans that she's changed much at all, but it's clear that she's just keeping all of her growth and her major life moments out of the spotlight — something celebs rarely do or can't do as successfully.
A rep for Bledel confirmed that a baby does exist, and I'm going to go ahead and assume Bledel is fond of said baby. But other than that... nada. Which is so weird because Rory Gilmore would have told us in rapidfire Gilmore-speak, I just know it.
But Bledel is very on point with this whole secret baby thing. There aren't any photos of her holding her bag over her stomach or anything, like Eva Mendes did when she hid her and Ryan Gosling's most recent pregnancy.
And what does Lorelai Gilmore (known to some as Lauren Graham) think of the whole situation? Because this would make her a sitcom grandma, you know. And Emily Gilmore would be a great-grandma.
Unfortunately, Graham hasn't said a word about Bledel's secret son either. It's a wall of Gilmore silence. So until we hear some cute little anecdotes from Bledel, we will have to hold our collective breath and hope this new Hollywood Cone of Silence trend goes the way of mullets and mom jeans (and disappears for at least a little bit).