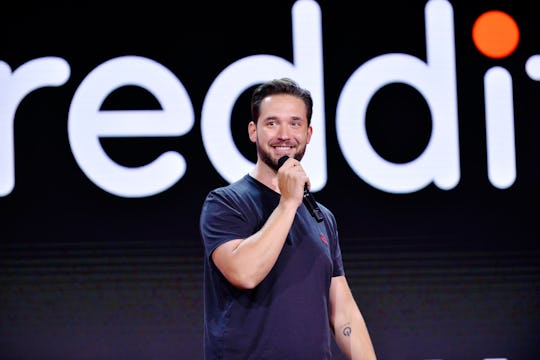 Jerod Harris/Getty Images Entertainment/Getty Images
Reddit Co-Founder Alexis Ohanian Made A Huge Career Move To Devote More Time To Fatherhood
You might recognize him as Mr. Serena Williams, husband to one of the best tennis players to ever live. Or as father to Alexis Olympia Ohanian Jr., the baby with the amazing social media game. But for a long time, people simply knew Alexis Ohanian as the co-founder of Reddit, a day-to-day position he is reportedly stepping away from. On Wednesday, Ohanian announced he's stepping down from Reddit for a new role and to focus more time on his family, saying that he fully believes he is leaving the social media platform in capable hands while he takes off on his next adventure.
And it seems that next adventure is a little something called fatherhood; Ohanian admitted to Fortune that the birth of his daughter (who he refers to as "Junior") on Sept. 1 changed his perception profoundly. Once his little girl arrived on the scene, he told the media outlet, "all these dad reflexes kicked in." And now Ohanian is planning to take more time with his family in the near future as he steps down from Reddit after three years and returns to Initialized Capital — a venture capital start-up he helped get off the ground back in 2011 —  although he still plans to remain on the board. Leaving Reddit was, as he told Fortune, was part of a "promise he made to this little poppy seed," the same wee girl who has given him "super power and purpose."
In fact, Ohanian actually credited Reddit's 16-week paternity policy with giving him the space he needed to come to this decision in the first place. "I was a believer before, but now I whole-heartedly believe that every single dad should take it," he told Fortune. "That really put into perspective how important these policies are."
Ohanian shared his decision to step away from the social media sharing platform on Instagram, but sees the company as a success story. He wrote:
I've had an amazing three years back here and I'm in awe of how much this company has grown, matured, and evolved thanks to the hard work of all of you who believed in a vision when few on the outside did. I'm so proud of what we've accomplished together (the business alone has 5Xed!) and can't wait to see where the rocket ship keeps going.
As previously stated, the Reddit co-founder is leaving to return to Initialized Capital as a general partner. He wrote on the Initialized Capital website:
Now I'm back at Initialized with even bigger ambitions than when we started. As a new father of a five-month-old little girl, I want to make sure the world she inherits is as great as possible.
The trend of relatively high-powered fathers taking leave after welcoming their children is a new one. Facebook founder Mark Zuckerberg took two months leave in 2015 when his first daughter was born, and the social media giant's paid family leave policy is one of the best in the country, offering parents up to four months paid leave after the birth of a child.
Ohanian isn't just doing his part to change the conversation about paid family leave; he also pointed out the systemic double standard that still exists when it comes to mothers and fathers. He noted in his interview with Fortune that the speculation surrounding Williams' return to tennis started up quickly, despite the fact that she suffered through a terribly complicated labor and delivery. There was very little discussion about whether or not he would return to work at Reddit; he felt it was assumed. Which does both mothers and fathers a real disservice, of course.
As CNN noted in its 2017 review of 20 studies on the subject of paid parental leave, this is a system that has proven to benefit both parents and children. In the short term and the long term, offering parents the opportunity to spend dedicated time with their children promotes more time for breastfeeding for new moms and more long-term involvement throughout the child's growth for dads.
It's fathers like Alexis Ohanian who are willing to challenge the way we look at parenting in general that will make a difference. Dads who aren't going to accept the status quo, who see parenting as a shared responsibility and a gift. These are (hopefully) the fathers of the future.
Check out Romper's new video series, Bearing The Motherload, where disagreeing parents from different sides of an issue sit down with a mediator and talk about how to support (and not judge) each other's parenting perspectives. New episodes air Mondays on Facebook.