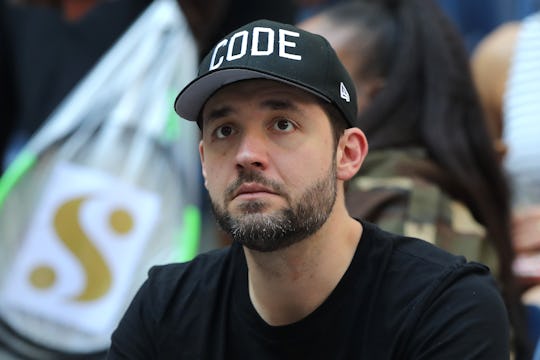 Elsa/Getty Images Sport/Getty Images
Alexis Ohanian's Video Tribute To Serena Williams Is The Most Beautiful Thing
Alexis Ohanian might be the most supportive husband I've ever heard of in my life except for maybe John Legend. The Reddit co-founder is paving a new way for men and the way they interact with their wives, and honestly I'm so on board with it I can barely stand it. Whatever his wife, that tennis Queen Serena Williams you might have heard about, might be doing you can usually find Ohanian there cheering her on. And now he's making videos about her. Alexis Ohanian's video tribute to Serena Williams celebrates her as more than a wife, more than a mom, and more than a tennis champion. Ohanian is all about celebrating every part of his wife... and I'm sorry to be that girl but husbands everywhere might want to take n note.
As fans all remember, Ohanian and Williams surprised the world when they announced at the beginning of 2017 that they were not only engaged but also expecting their first child together. Prior to their engagement announcement they were intensely private about their burgeoning relationship. Since then, the two welcomed Alexis Olympia Ohanian Jr. on Sept. 1, 2017 and were married on Nov. 17 of that year. Their lives have been a bit of a whirlwind since they first started dating in 2015. And so it seems Ohanian wanted to take a moment to slow down and share his full appreciation of his exceptional wife.
On Friday Ohanian shared a video he had made to celebrate all of the parts of his wife. He captioned the video:
She fought for her life, for our child, for recognition, for equal pay, for women's rights. She never gives up. She's passionate and unrelenting and the most inspiring person I know.I had this made for @serenawilliams last night after her match with some home videos from 1 year ago this week. Help me make sure she sees it! #iloveyouserena
The short film Ohanian said he had made was full of home videos of Williams as a mom interspersed with an interview of Williams at this year's U.S. Open (after earning her place in the finals) where she said when asked what it meant to her to return to the final stage a year later:
It's honestly really incredible. A year ago I was fighting for literally my life at the hospital after I had the baby. So every day I step out on this court I am so grateful that I have an opportunity to play this sport, you know? So no matter what happens in any match, semis or finals, I just feel like I've already won.
Williams has been open about her difficult birth experience with her daughter last year. She told CNN that she nearly died of a pulmonary embolism caused by arteries in the lungs being formed by blood clots. She realized the problem and alerted nurses to her pre-existing condition immediately, essentially saving her own life in the process because she's a bad ass.
No wonder Ohanian can't stop gushing about her. And of course, people on the internet can't stop gushing about his gushing. It goes on and on.
Alexis Ohanian has always been effusive with his praise of his wife, and everyone loves it. When he recently described his marriage to Williams as having a "front row seat to greatness," I think every human who wants to be loved on the planet swooned for 30 full seconds.
Because this guy gets it. He's not threatened by her strength or success; he's inspired by it. He's not trying to pigeon hole Williams into one role as defined by him. He embraces every part of who she is with equal devotion.
It's a gorgeous thing to witness. And I swear I'm not jealous.