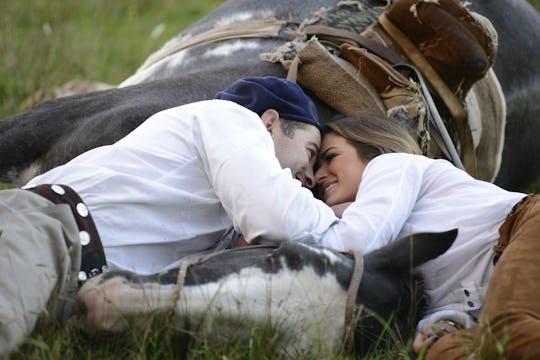 ABC/Veronica Gambini
Alex's Date With JoJo On 'The Bachelorette' Was The Oddest Date This Season
For most of this season of The Bachelorette, Alex was either too busy defeating Chad (then becoming the New Chad) or he was complaining that he hadn't had a one-on-one date with JoJo yet. On Monday night's episode, at least the latter was abated as JoJo granted Alex a solo date – and it just so happened to be the weirdest of the season. What made Alex and JoJo's solo date on The Bachelorette so odd?
JoJo and the guys are still in Argentina, and of course when you're in Argentina, you have to go on a date to a horse ranch. Right? Apparently, because that's how JoJo and Alex spent their solo time together. They were greeted by gauchos, a national symbol of Argentina who according to Wikipedia are typically skilled horsemen. While the couple was told that you had to be born a gaucho and could not become one, which somewhat disappointed JoJo, but she prevailed. Thankfully, they allowed Alex to dress like them (though looking a lot less dignified).
Partway through their date, things started to get weird. One of the gauchos showed his horse whispering talents, which made the horse docile and act, according to JoJo, "like her dog." JoJo and Alex were amazed at these skills and the horse's behavior. They "oohed" and "ahhed" as the man mounted the horse and took control.
Not only did JoJo and Alex observe this behavior, but they got in on the action. They got to lie down with – well, more on top of – the horse, and they got really into it. So into it that it almost seemed like this episode of The Bachelorette descended into a drug trip, but regardless. Alex truly felt a connection, both with the horse and JoJo (though it's unclear which connection was stronger). "I feel like this is my buddy," he said of the horse. "Today's...shown me since the beginning there's something special with her," he said of JoJo.
Finally, Alex said something that may be the quote of the season: "I'm your goocho." He meant gaucho, but the sentiment was there: he wanted to be JoJo's "country person, experienced in traditional cattle ranching work," according to the Dictionary of the Royal Spanish Academy's definition of "gaucho."
It seemed like JoJo, however, may have felt it more with the horse. "I don't think you can describe this," she said of the date. Despite this speechlessness over her time horse whispering, Alex displaying his feelings made her realize they were not mutual. She then sent him home – but they'll always have this oddly sensual and just plain odd date together.