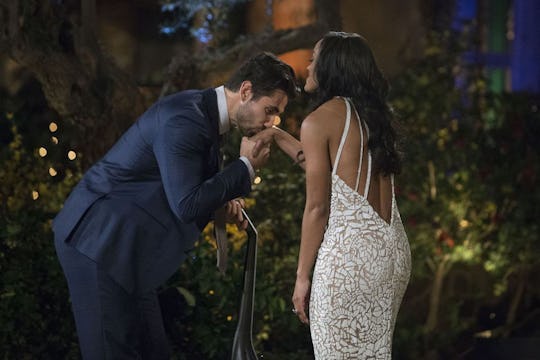 Paul Hebert/ABC
Alex's Instagram Proves This 'Bach' Suitor Is As Lovable As He Seems
Rachel has already lost one guy this season due to a romance he left at home, so hopefully Alex isn't next, though I don't think a bona fide bromance could count against him. And Alex's Instagram proves The Bachelorette contestant is as lovable as he seems, thanks in part to the fact that he shares it with his longtime best friend. I could honestly get lost in his account because of the videos that are total Vine material (if Vine was still a thing) and because watching Alex in his natural habitat makes you want him to go really far this season.
Alex and his friend Valentino J. Smith have been friends since high school, judging by their throwback photos together, and now they seem to live together or just spend every waking moment together as much as possible. So they've been cultivating this bromance for quite a while. In fact, they regularly use the hashtags #interracialbromance and #brolationshipgoals.
And honestly, with anyone else that might be incredibly annoying, but with Alex, it's oddly endearing. Valentino has even posted photos and videos in support of Alex on The Bachelorette and one with the caption: "Ain't no mountain high enough, ain't no wifi slow enough to keep me from supporting my bro! Couldn't catch it live but just saw highlights online and Bordy doesn't disappoint." They even have pet names for each other. They bring BFF goals to a whole new level.
According to Alex's shared Instagram, the two met in high school on the swim team and even have their first photo as swimmers to prove the beginning of their friendship. Ahem, their bromance. There are also a few teenage photos showing a younger (and still gorgeous) Alex with a full mop of hair.
Most recently on The Bachelorette, Alex got really into lap dancing during the group date on The Ellen DeGeneres Show and later admitted to peeing in the Bachelor Mansion pool. He's just super unapologetic about every aspect of himself, so what's not to love about that?
I would call Alex's Instagram with his BFF a gimmick meant to gain followers and video views, but the fact that they've been in a dedicated bromance for years shows how untrue that is. It also shows how loyal Alex is to the people he cares about, so Rachel, if you're listening, he's definitely a keeper in that regard. Also in the looks department. Basically all around.
My only hope is that Alex lasts long enough on The Bachelorette for Rachel to visit his hometown, because after seeing Alex's Instagram, she has to meet Valentino. He might prove to be competition for Alex's affection, but I also kind of love the idea of seeing Alex and Valentino together on the show.