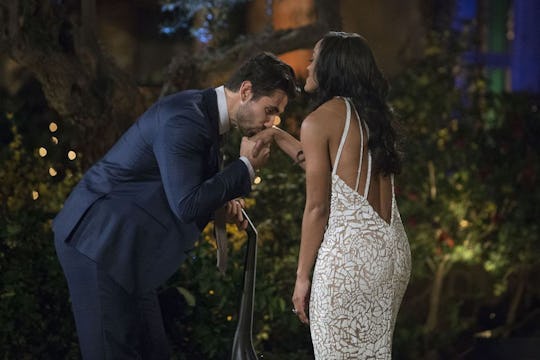 Paul Hebert/ABC
Alex & Rachel Share A Special Moment On 'The Bachelorette'
Although he didn't have much of a chance to shine until Monday's episode where he was part of the group date who went on The Ellen DeGeneres Show, Alex definitely stood out. But because of his dedicated faux stripper moves with the audience and all around fun demeanor, fans are probably asking, who is Alex from The Bachelorette? Rachel feels a connection with him and can you blame her?
The 28-year-old information systems supervisor (more on that mouthful later) named his three worst attributes on his Bachelorette bio as selfish, unemotional, and unapologetic, which don't make him seem like the Prince Charming Rachel is looking for. But on the flipside, he said that the most romantic thing he ever gave someone was a car and "I like to treat my significant other like a queen." So I kind of forgive him for the brutal honesty of the answer to the other question.
On LinkedIn, Alex's job title of information systems supervisor/accountant for Sutton Leasing, Inc is elaborated on a bit. As an accountant, he "prepares financial statements" and "provides information for audits." And as the information systems supervisor, Alex is has to "oversee installation, ensure back up systems operate effectively" and "purchase hardware and software." Basically, he's a smart guy.
According to Alex's Instagram, which he shares with his friend Valentino J. Smith who he has an "#interracialbromance" with, he left behind a legitimate BFF when he decided to come on The Bachelorette. If he and Rachel build up a legitimate and lasting connection and he can be as devoted to her as he apparently is to his best friend, then Alex could be stiff competition as the season goes on.
He can also give better lap dances than probably anyone else on the show this season (except for Kenny, who admitted to be a Chippendales dancer in Las Vegas), as evidenced on The Ellen DeGeneres Show during the group date. Until now, he may have been one of the men who were looked over, but thanks to the very cool group date, viewers are no doubt asking who Alex from The Bachelorette is.
Thanks to his confidence and fun-loving kind of attitude, it was only natural for Rachel to take a liking to Alex, but it also doesn't hurt that he's somehow like an even hotter Uncle Jesse. But because of that, I don't see Alex going anywhere anytime soon and even if we don't get to see those stripper moves again, he definitely stood out on the first of what I can only hope are many dates featuring Alex on The Bachelorette.