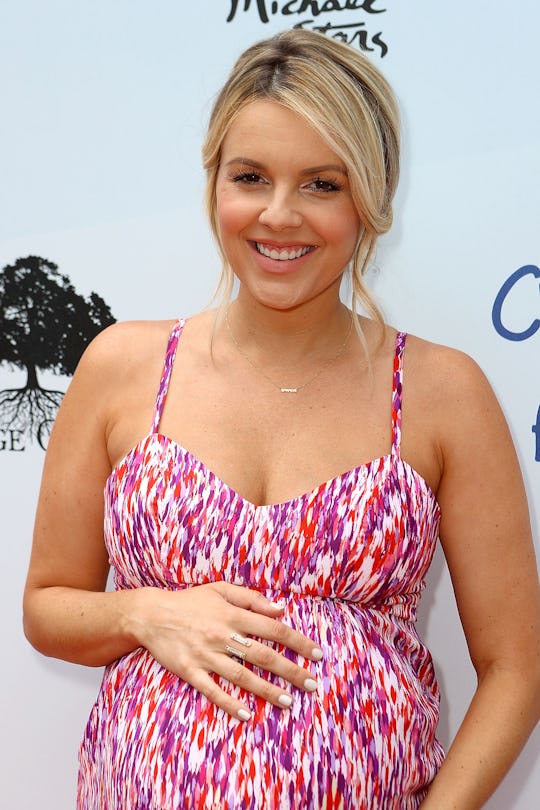 Ari Perilstein/Getty Images Entertainment/Getty Images
Ali Fedotowsky Shares A Photo Of Her Newborn & It's Absolutely Precious
Former Bachelorette star Ali Fedotowsky and her fiancé, Kevin Manno, welcomed a baby girl to the world earlier this week on Wednesday, July 6, and from the looks of her recent Instagram posts, she's beyond smitten with their new bundle of joy. On Saturday, Ali Fedotowsky shared a photo of her newborn, capturing an absolutely precious moment of motherhood. In the photo, the new mom is smiling while she cradles her daughter, Molly Sullivan Manno, wrapped tightly in a blanket.
"I feel whole. Almost like I was put on this earth because I was always meant to be her mom," Fedotowsky captioned the heartwarming photo on Instagram. "I love you Molly Manno."
Fedotowsky posted regularly on social media throughout her pregnancy, from her growing baby bump to Molly's new wardrobe, packed with plenty onesies, tiny socks, and adorable dresses. Just two days earlier, keeping her fans in the loop, she posted the first Instagram photo of her newborn.
"Welcome to the world Molly Sullivan Manno," she captioned the adorable black and white photo. "Born at 8:22am on 7/6/2016 weighing 7lbs 6oz and measuring 22 inches long. You are absolutely beautiful and perfect in every way."
Baby Molly is the first child for the proud parents and according to Us Weekly, Fedotowsky said their daughter's name has special significance for both of the parents.
"Molly Sullivan is named after two very important women in our lives," Fedotowsky told Us Weekly in a statement after giving birth. "My late grandmother, Molly Fedotowsky, and Kevin's late grandmother, Eva Sullivan, will both live on in our little girl."
According to a July 5 blog post on her website, her fiancé wrote that the Bachelorette season 6 star didn't have the smoothest pregnancy during her third trimester due to frequent Braxton Hicks contractions related to "uterine irritability."
"Even though there have been a lot of tears and sleepless nights, I have to say, she's handled this like a champ," Manno wrote on Fedotowsky's lifestyle website. "I would've gone insane a long time ago, and she's maintained a positive outlook throughout."
During the home stretch of her pregnancy back in May, the former Bachelorette joked with People that she had "a very pissed off uterus" and that she was on modified bed rest from the uncomfortable, and sometimes painful, contractions.
"I would love to tell you, 'I'm good, this pregnancy is wonderful,'" Fedotowsky told People in May. "I am so grateful to be pregnant. But I am just in so much pain all the time!"
Even though Molly is just a few days old, Fedotowsky's latest heartwarming photo makes it pretty obvious that the new mom seems to loving motherhood and is ready for new batch of newborn challenges.