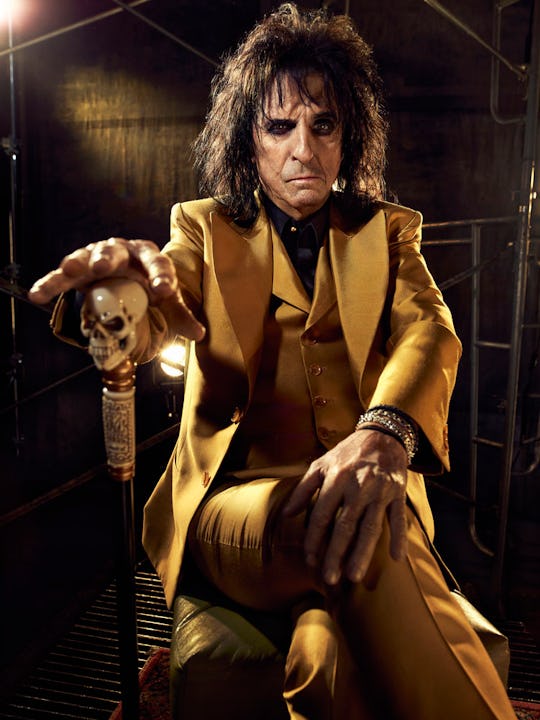 James Dimmock/NBC
Alice Cooper's Performance On 'Jesus Christ Superstar Live!' Was The Hit Of The Night
Casting Alice Cooper as King Herod on NBC's production of Jesus Christ Superstar Live! was so perfect it was hard to even be surprised when his role was announced. And on Sunday Alice Cooper's performance on Jesus Christ Superstar Live! was the answer to everyone's prayers — particularly the Superstar superfans of Twitter, who immediately sounded off after his fantastic rendition of "Herod's Song."
Alice Cooper first became famous in the '70s for his bad boy rock opera schtick, his over-the-top villainous persona inspiring punk artists like Johnny Rotten of the Sex Pistols. So considering the fact that the role of King Herod required being brash and antagonistic (with a bit of flair), Cooper is the perfect choice. Even he knew that he was perfect for it, explaining in interviews that when he was approached about doing the show, he already knew they wanted him for King Herod. And wouldn't you know it, he was fantastic. The man has been touring pretty much nonstop for the better part of a century, so he's a consummate pro. And Twitter ate up every second of his vaudevillian performance, in which his character taunts Jesus Christ before he's about to die on the cross.
"And now, I understand you're God," Cooper's Herod says to a kneeling John Legend as Jesus, his voice dripping with perfect disdain. If you were reminded of the way Severus Snape snarled, "Our new celebrity..." in the first Harry Potter movie, that's no accident. Cooper actually cited Alan Rickman's tone of cynicism as one of the influences of his performance. In an interview with Rolling Stone, Cooper said, "To prepare for the role, I keep thinking, 'Who's the most cynical character that this could be?' And I keep coming back to Alan Rickman. He would have been the perfect Herod." Rickman might have been a perfect Herod, but Cooper comes pretty close to perfect himself. Just look at Twitter's reactions.
Cooper appeared on stage dressed, well, like Alice Cooper. You can tell me differently but I will never believe that he doesn't walk around his house dressed in completely over-the-top suits with chunky skull jewelry and his hair teased to high heaven. For Jesus Christ Superstar Live, Cooper strutted forth wearing a bright orange suit with accompanying skull-topped cane. He was surrounded by fishnet-and-feathers-clad go-go dancers, who more than made up for the fact that he didn't do much choreography. I wondered why he was carrying a mic instead of the headset that most of the cast was wearing... until he dropped it at the end of his song. I die.
Cooper himself is a devout Christian, a fact he's talked about often, and which he credits with his recovery from alcoholism. That being the case, one might imagine he wouldn't relish playing a not-so-lovable part in Jesus Christ Superstar, but if he did you'd never know it from his performance. A bona fide rock legend, Cooper came out and absolutely slayed the stage.
It also helps that Cooper is familiar with the song, having recorded his own version of it in 1996 with the London cast (though he did not act in the show). It's only a pity that there couldn't be more songs from King Herod in the show, because there's a good chance Cooper would have stolen the whole performance (although he'd have had some extremely stiff competition from Brandon Victor Dixon's Judas, who was unbelievable throughout the whole thing). In any case, I'm thankful for what we got.
Check out Romper's new video series, Romper's Doula Diaries:
Watch full episodes of Romper's Doula Diaries on Facebook Watch.