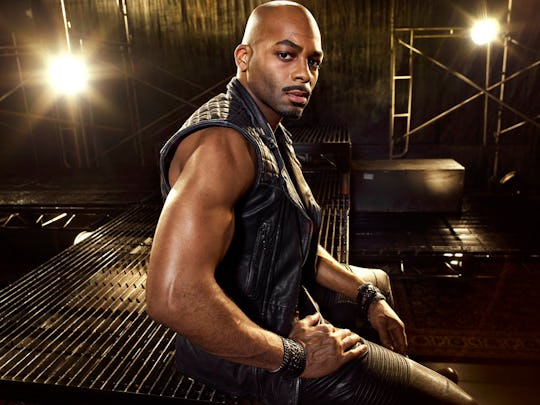 James Dimmock/NBC
Judas From 'Jesus Christ Superstar Live!' Has An Important Connection To 'Hamilton'
In the story behind Jesus Christ Superstar, it could be argued that the other "main character" aside from Jesus himself is probably Judas, infamous for selling the savior out, turning on him, and being the cause of so much pain and heartache. By now, it's common knowledge that Grammy Award-winner John Legend will be playing Jesus in the television special, but who plays Judas on Jesus Christ Superstar Live!? Brandon Victor Dixon is probably most well-known for his role in Hamilton, but it may even be his speech at the end of an unforgettable show in November 2016 that he's even more remembered for.
Vice President Mike Pence attended the show at the time and Hamilton creator Lin-Manuel Miranda wrote a short speech with producers backstage, which Dixon volunteered to read out at the close of the show. In it, he addressed Pence directly, saying, "We are the diverse America who are alarmed and anxious that your new administration will not protect us, our planet, our children, our parents, or defend us and uphold our inalienable rights." He ended the speech by telling the vice president that he hoped seeing the show would inspire him to "work on behalf of all of us."
Dixon did appear on CBS This Morning shortly after, and stood by what he'd said at the end of the show. "We wanted to stand up and spread a message of love and unity considering all of the emotional outpour since the election," he explained in the interview. Later, President Trump tweeted about the incident and demanded that Dixon apologize to Pence, because of course he did. Suffice to say, it's one of the main things the actor is now known for.
It's also probably why, during an interview backstage at Jesus Christ Superstar Live!, Dixon admitted that he has a certain understanding for his character in the live television event. "I feel like I relate very closely to Judas Iscariot, because I also am a bringer of truth," he said. "Judas was simply trying to preach the message, the truth of the message, the foundation of the message, and I like to think that I do that in life as well."
Dixon is a "bringer of truth" in more ways than one, though, as he's had a full acting career already, from television, including appearances on One Life to Live and The Good Wife to theater. His theater credits from shows such as Motown The Musical and Shuffle Along also earned him a Grammy and Tony Award nomination, respectively, so he's definitely a force to be reckoned with. More recently, Dixon landed the role of Terry Silver in the Starz drama Power and judging by his Instagram, it seems like work and getting out the message of equality in all things are his big priorities.
It's hard to say if he's in a relationship or even married at the moment, but Dixon does have plenty of friends, which apparently includes Sterling K. Brown, who plays Randall on This Is Us, as he was backstage at Saturday Night Live when the actor hosted recently. He's also quick to send shout-outs and support to fellow actors via social media, which just makes him all the more likable, if that's even possible. If he's not telling his followers to buy a friend's new album, he's posting inspirational quotes.
As you can see, Dixon is constantly working on something, whether its theater, television, or a combination of both, like Jesus Christ Superstar Live!. He might not be playing everyone's most favorite follower of Jesus, but he seems like the perfect actor to lend his talent and voice to the role.
Check out Romper's new video series, Romper's Doula Diaries:
Watch full episodes of Romper's Doula Diaries on Facebook Watch.