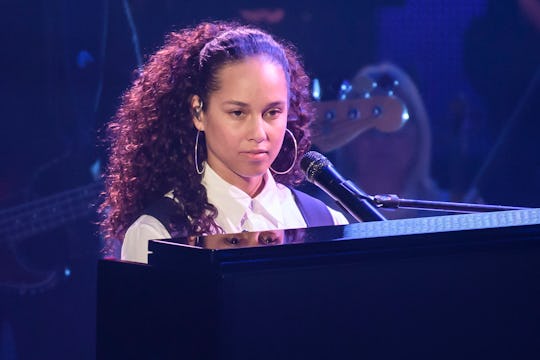 Clemens Bilan/Getty Images Entertainment/Getty Images
Alicia Keys' Beatboxing Son Is The Best Thing Ever
If you haven't smiled enough today, here's a surefire mood-booster: Alicia Keys' son can beatbox like a pro, and, because he's only 2 years old and probably about to get scooped up by a record label, it could not be more impressive or adorable. It's also not altogether surprising, as Genesis Ali comes from a seriously musically talented family, from his R&B superstar mom to his (only slightly) older brother, who already has a producer credit on a major mainstream project.
But it was Genesis' dad, the hip hop artist and record producer Swizz Beatz, who introduced the world to his toddler's skills in an Instagram post Wednesday. In the video, Genesis lays down his beat with a confidence and professionalism that would make you think he was born to do this — or something. "In the middle of my #NoCommissionShanghai, Genesis wanted me to hear his new beat," Beatz, whose given name is Kasseem Dean, captioned the post, topping off the post with multiple laughing emojis and tagging kid's clothing designer Breukelyn Threads.
Seriously, just watch this little guy go. He's got an entire basket full of stuffed animals and toys in the corner, but, obviously, he's rather just chill out and collaborate with his dad. And the internet is a better place for it.
And the same was true back in November, when Beatz posted a video of the couple's older son, Egypt, singing the first song he ever wrote and accompanying himself on the piano. At just 6 years old, Egypt definitely earned that "Proud Dad Alert" with which Beatz captioned the video of the seriously awesome performance of "Super-boy."
Even at that absurdly young age, Egypt was no stranger to showing off his musical genius, just as Genesis is doing these days. In February 2016, at the age of 5, Egypt headed to a Los Angeles recording studio to record his contribution the song "untitled 07 | 2014 – 2016" on Kendrick Lamar's Untitled Unmastered, which would come out the next month. Entertainment Weekly's Will Robinson described the Egypt's part as "a synth break between two distinct parts of the song" — and, of course, Beatz was there to document the occasion for Instagram.
Just like their parents, who married in 2010 after having met as teenagers, these brothers are quite the dynamic duo. And considering that Egypt got to be a part of a Kendrick Lamar album, maybe we can expect to hear Genesis beatboxing alongside Jay Z or Missy Elliott next.