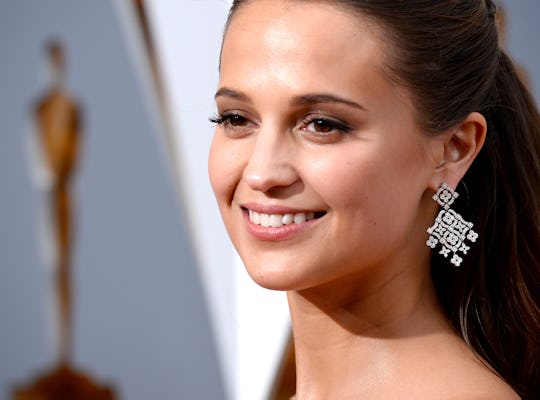 Frazer Harrison/Getty Images Entertainment/Getty Images
Alicia Vikander Cast As Lara Croft & Fans Are Torn
It looks like we'll be getting another classic movie reboot in the relatively near future, which seems to be the Hollywood trend these days (not that you'll hear this girl complaining). Warner Bros. and MGM announced on Thursday that there will be a Tomb Raider reboot, with Oscar-winning actress Alicia Vikander cast as Lara Croft. Already, fans of the video-game-turned movie franchise aren't exactly sure how they're supposed to feel about that.
Vikander, the star of The Danish Girl and Ex Machina, was apparently the studio's top choice from the beginning. Other actresses read for the role, most notably Star War: The Force Awakens' Daisy Ridley, but the studio was sold on Vikander from the get go. They were simply waiting for a new draft of the script before making the announcement. Norwegian director Roar Uthaug has been signed on for the reboot as well, with Geneva Robertson-Dworet (Transformers 5) writing the script.
The video game character version of Lara Croft is a British archaeologist who spends her time searching through ancient tombs and ruins all over the world, getting into trouble with bad guys while still managing to look fantastic in cargo pants and a messy updo. She is part heroine and part nerdy guy fantasy, but 100 percent badass. The original Lara Croft was played by Angelina Jolie in 2001 (Lara Croft: Tomb Raider) and again in 2003 (Lara Croft: Tomb Raider The Cradle of Life).
So what is it about Swedish-born Vikander playing Lara Croft that has fans all riled up? After all, Vikander certainly has the right look to pull off the role, and she's more than proven she has the acting chops for it, after taking home the 2016 Best Supporting Actress Oscar for her role in The Danish Girl. Not to mention the fact that she's no stranger to the sci-fi genre, as evidenced by her outstanding turn as Ava in Ex Machina, the Artificial Intelligence creation whose intelligence turns out to be more than her creators bargained for.
The big problem with Vikander being cast as Lara Croft? It turns out some fans were hoping for a little more Daisy Ridley outside the Star Wars franchise, and were therefore seriously let down when the studio announced Vikander as the lead.
Ridley plays Rey in the Star Wars franchise, a plucky, tough-as-nails character who looks great in neutral tones and is generally a killer fighter — very much like Lara Croft. So one can certainly see why fans wanted her to play the video game character so desperately. Perhaps that would be a bit of an issue though; the girl doesn't want to get typecast this early in her career, does she?
Still, other fans are feeling just fine with Vikander's casting:
Whatever side you're on, one thing is certain: At some point over the next few years, we are going to see a return of Lara Croft Halloween costumes. And that is just fine by me.