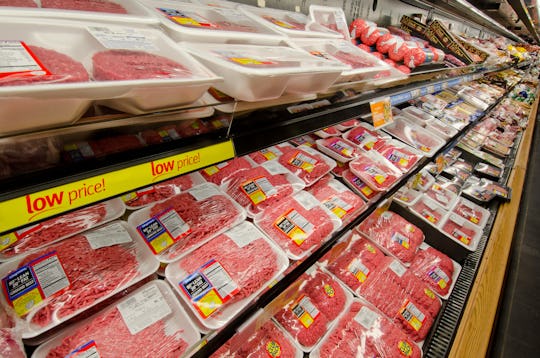 U.S. Department of Agriculture/Flickr
All American Meats, Inc. Recalls 170,000 Pounds Of Ground Beef Over Concerns Of E. Coli Contamination
This could be bad news for anyone who loves a good burger: Nearly 170,000 pounds of ground beef has been recalled by American Meats, Inc., a Nebraska-based beef manufacturer. As the United States Department of Agriculture announced Sunday, the affected products were produced on October 16, and are suspected of possible E. Coli contamination. You can tell if your meat is affected by checking the USDA inspection label on the package; products subject to recall have an establishment number "EST. 20420" inside the USDA mark of inspection. Though Romper reached out for comment Tuesday, calls to the office of the company's president and CEO, Shawn Buchanan, were not immediately returned. However, an attorney for the company told ABC News Monday, "Our focus at this time is to cooperate fully with the recall protocol" and said, "Everything produced [Oct. 16] was recalled as a precaution."
The company's ground beef products tested positive for E. Coli O157:H7 during a routine USDA inspection. While most strains of the bacteria are harmless, E. Coli O157:H7 is the worst type according to FoodSafety.gov. It can cause bloody diarrhea, kidney failure, and death in as little as eight to ten days of exposure.
So far, there have been no reports of illness from anyone consuming tainted meat, but the agency warned that consumers might have packages of the affected meat in their freezers. The tainted meat was sold in 60-pound and 80-pound packages, making them an unlikely purchase for average households. Still, the USDA said the meat was shipped to retail locations rather than wholesale outlets, so consumers have cause to be concerned.
The contaminated meat was shipped nationwide, according to the USDA, so consumers in every state are urged to check for the recalled beef. Images of the recalled package labels are available on the USDA website. You can also find a full list of products affected by the All American Meats recall here.
When it comes to guarding against contamination, ground beef poses a particular challenge. The grinding process mixes any surface bacteria throughout the meat, rather than just on the outer layer. And a report issued this summer by watchdog Consumer Reports showed that contamination is more common than you might think: a study of 300 meat samples found at least one strain of harmful bacteria in every single package.
The best thing for consumers to do to kill harmful bacteria, according to FoodSafety.gov, is to store meat at 40 degrees or lower and cook to an internal temperature of at least 160 degrees. But when it comes to E. Coli, it's better to not even take the risk.If you do find a recalled package in your household, the guidance from the USDA is to simply throw it away or return it to the store.
Images: U.S. Department of Agriculture/Flickr