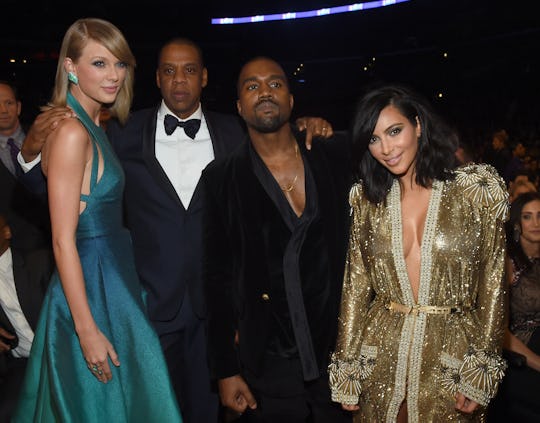 Larry Busacca/Getty Images Entertainment/Getty Images
All Of The Evidence "This Is Why We Can't Have Nice Things" Is About Kim & Kanye
If I was going to start a feud with someone, it probably wouldn't be Taylor Swift. Especially if she was searching for a theme for a new album, because I'm thinking that girl does not take any form of conflict lightly. Just ask Kanye West and Kim Kardashian. After feuding hard with Swift in 2016, the couple (and West in particular) seem to be getting hit hard with the Swift stick on her Reputation album, which was dropped in the early hours of Friday morning. Here's all the evidence that "This Is Why We Can't Have Nice Things" is about Kim and Kanye, because the fans know exactly what's going on.
As Swifties most certainly remember, Swift and West have some pretty serious history. In 2009, the two forever entwined in meme history when West interrupted her acceptance speech at the MTV VMAs to protest her Best Female Video award and insist that Beyoncé should have won for "Single Ladies." The pair eventually reconciled and enjoyed a few years of relative calm (if you don't include some backtracking and a few veiled digs in songs on both sides, according to Cosmopolitan) until West wrote the song "Famous" for his 2016 Life of Pablo album. In the song, West references Swift directly, claiming he "made that b*tch famous." West insisted he had Swift's permission to write the song, writing in a since-deleted tweet:
I called Taylor and had a hour long convo with her about the line and she thought it was funny and gave her blessings.
Swift denied giving her blessing, which might have been the end of things if West's wife Kim Kardashian hadn't secretly taped the phone conversation and shared it with her followers on Snapchat.
And Swift was like... nope. Uh-uh. Not okay.
It's been more than a year since the whole Kimye-Taylor feud rocked the social media world (and made the snake emoji super popular, thanks to Kardashian). A year in which Swift has reportedly fallen in love with British actor Joe Alwyn. Oh, and a year to write one heck of a diss album too, apparently.
The song "This Is Why We Can't Have Nice Things" specifically seems to go after West, with these smackdown lyrics.
It was so nice being friends again
There I was, giving you a second chance
But then you stabbed my back while shaking my hand
And therein lies the issue
Friends don't try to trick you
While those lyrics clearly seem to point to her on-again, off-again, then seriously off-again friendship with West, the next lines really drive the point home.
Get you on the phone and mind-twist you
And so I took an axe to a mended fence.
Fans couldn't help but notice the not-so-subtle dig about being on the phone and having someone "mind-twist" you.
Swift even seems to reference West's falling out with former friend and fellow rapper JAY-Z (which JAY-Z referenced on his 4:44 album earlier this year) in the next lines:
But I'm not the only friend you've lost lately
If only you weren't so shady.
Now, before you go feeling too sad for Swift, the bridge of "This Is Why We Can't Have Nice Things" seems to offer proof that she is doing fine with Alwyn, her family, and all of her *real* friends:
Here's a toast to my real friends
They don't care about that he-said-she-said
And here's to my baby
He ain't reading what they call me lately
And here's to my momma
Had to listen to all this drama
And here's to you 'Cause forgiveness is a nice thing to do
Haha, I can't even say it with a straight face
I'm going to go out on a limb here and say that there probably won't be another reconciliation in the cards for Swift and West after Reputation.
Check out Romper's new video series, Romper's Doula Diaries:
Watch full episodes of Romper's Doula Diaries on Facebook Watch.