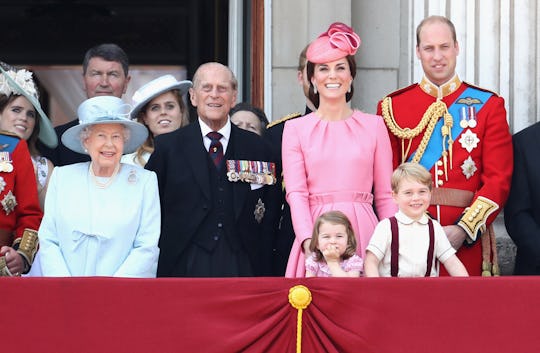 Chris Jackson/Getty Images Entertainment/Getty Images
All Of The Royal Family Portraits Give An Intimate Look Into A Powerful Clan
A week ago, Kate Middleton, the Duchess of Cambridge, gave birth to her third child — and second son — Prince Louis Arthur Charles. The tiniest new member of the British royal clan joins a long line of regal family members who are trained to be posed and elegant in public, but also know how to show their vulnerable side. After all, all of the royal family portraits in modern history show a bit of intimacy into the brood, even when the royals are in a standard portrait pose.
These eight images are just a sampling of the portraits taken of the British Royal Family over the last few decades. But they nonetheless represent a deeper look at the love and interaction between royal family members, whether it's the Duke and Duchess of Cambridge, the Queen and Prince Philip, or even self-portraits of 4-year-old Prince George and 2-year-old Princess Charlotte. The smiles on each of their faces, whether big and toothy or subtle and sweet, show a genuine love and respect for each other that is often lacking in official portraits of powerful, and even ordinary, clans. (Well, unless you don't count those amazing awkward ones that just take the cake when it comes to family photographs.)
The Duke & Duchess Of Cambridge's Young Family
Months before the Duchess of Cambridge would give birth to Prince Louis, she, Prince William, and their two darlings, Prince George and Princess Charlotte, stood for a portrait that would grace the cover of their Christmas card, according to Metro UK. It's a simple family portrait, but a sweet one nonetheless.
Here's another from Christmas 2015, when the kids were a little smaller and just as adorable.
Prince George's Official Birthday Photo
Prince William and Kate Middleton released this toothy photo of Prince George last July to celebrate his fourth birthday, according to USA Today. This official portrait of the young prince is just too cute for words — just look at that smile!
Princess Charlotte's Official Birthday Photo
As with Prince George, the Duke and Duchess of Cambridge released an official portrait of Princess Charlotte to mark her second birthday last May, according to SheKnows. Where her old brother is all toothy smile, Princess Charlotte is all subtle sweetness. And, of course, she's also cute as a button!
The Queen & The Duke Of Edinburgh On Their Anniversary
In November, the Queen and the Duke of Edinburgh sat down for their official portrait to share in honor of their 70th wedding anniversary, according to The Telegraph. They had released a series of images, but this particularly portrait is my favorite from the session, Queen Elizabeth II and Prince Philip look genuinely happy together, leaving the expected stuffiness to the wayside.
Prince George On His First Day Of School
Prince George was on his way to his first day of school in September when this photo was snapped on the steps of Kensington Palace, according to the palace's official Instagram account. It's an adorable portrait of a kid who looks like he's ready to take on the world, and a dad who couldn't be more proud of him.
The Late Princess Diana
Like her sons, Princess Diana was a humanitarian who worked hard to advance human rights and protect children. The bottom portrait of the late Princess was taken during a trip to Bosnia in 1997 as part of her campaign to raise awareness to rid the world of landmines, according to Kensington Palace's Instagram page. The two boys in the picture, Malic and Žarko, attended the Landmine Free 2025 event in April of last year, where Prince Harry paid a tribute to his mom's work, according to Vanity Fair.
The Duke Of Edinburgh In The Year Of His Retirement
In December, the royal family released a portrait of the Duke of Edinburgh painted by Australian-born artist Ralp Heimans in the year of the Duke's retirement from public engagements, according to The Mirror. It's an exquisite painting that, in its simplicity, shows a certain vulnerability through Prince Philip's facial expression and posture, and use of subdued colors.
Prince Harry & Meghan Markle's Engagement
In November, Prince Harry of Wales and Meghan Markle announced their engagement after more than a year of dating. To mark the special occasion, the couple released this stunning photograph as their official engagement portrait. I don't think any image says a couple is in love more than this one.
Whether taken as a self-portrait, or together as a unit, these royal portraits are intimate looks into the lives of a powerful family adored by millions of people around the world.