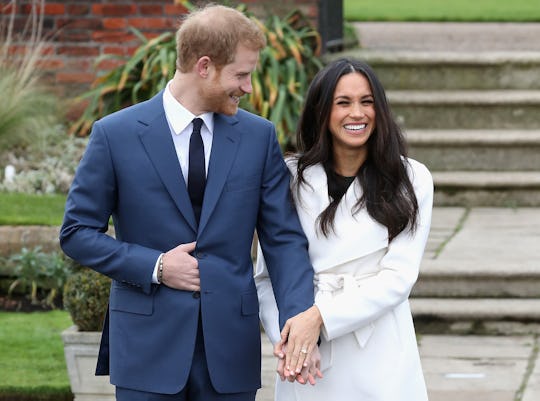 Chris Jackson/Getty Images Entertainment/Getty Images
Let's Give Meghan Markle A *Second* Before We Demand She Get Pregnant
It seems like another royal wedding is in order: After more than a year dating, Prince Harry of Wales has asked talented American actor Meghan Markle for her hand in marriage. Clarence House announced the royal engagement in a statement released early Monday morning, to the delight of fans everywhere, according to People. Of course, even though a few hours have passed since the news broke, people have already started speculating on the couple's next milestone: pregnancy. Seriously, though, no one should ask when Meghan Markle is getting pregnant, and here's why: She's not an incubator for the royal family.
In what I could only describe as a creepy move, bookies began taking bets on when Markle will become pregnant with Prince Harry's child mere minutes after Clarence House announced their engagement, which happened in secret earlier this month, according to Metro. Gamblers are also placing bets on where Prince Harry will have his bachelor party, where the nuptials will take place, and in which month the pair will wed, Metro reported. The couple, who began dating in July of last year, according to People, will marry in spring 2018, but further details about the royal wedding will be revealed "in due course," Clarence House said in its statement.
It's not unlikely that Markle and Prince Harry will have children in the future, possibly within their first year of marriage. In April of this year, the 33-year-old son of Prince Charles of Wales told The Telegraph in a podcast interview that he "would love to have kids," according to People. This is a notable change in attitude for Prince Harry, who seemed ambivalent towards the idea of becoming a father when he spoke to People last year.
Markle has also expressed, in the past, a desire to have kids one day. The 36-year-old Suits star didn't have any children with her first husband, Hollywood producer Trevor Engelson, whom she divorced in 2013 after a two-year marriage, according to Newsweek. But in an interview with Canadian magazine HELLO! last November, Markle said,
I also dream to have a family. It's all about balance, and I have so much happiness in my career and am fortunate to travel the world and see so many amazing things - it will also be nice to be anchored to something grounded and in the same place. Raising a family will be a wonderful part of that.
It would seem Markle and Prince Harry are on the same page about starting a family. But that doesn't mean fans of the royal couple — nor bookies, for that matter — should start taking or placing bets on when the Fringe actor will show a baby bump. After all, the pair did just announce their engagement. They haven't even tied the knot yet. I mean, is the paper on which the Clarence House printed the royal engagement announcement even cold yet?
Markle, nor anyone married to a member of the royal family, is not just there to extend the blood line. The couple, as they've both shown in the past, are ridiculously in love and are getting married as an expression of that love. So to ask when Markle will become pregnant, mere minutes after the engagement news broke, completely disregards her agency, her autonomy, and her choices.
How? Because the question itself treats her as if she is just a baby-making machine. Whether or not the couple wants to start a family is not even considered; the question is a matter of "when," as if it's Markle's duty to provide her soon-to-be husband with a brood.
Check out Romper's new video series, Romper's Doula Diaries:
Watch full episodes of Romper's Doula Diaries on Facebook Watch.