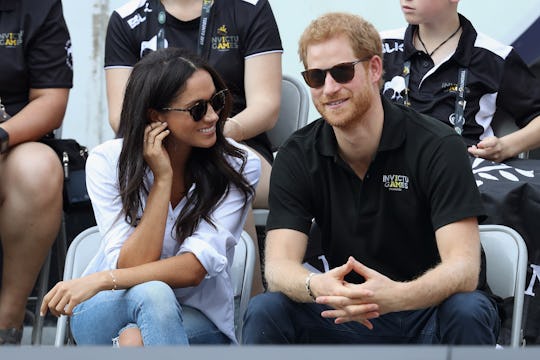 Chris Jackson/Getty Images Entertainment/Getty Images
Here's What Prince Harry & Meghan Markle Have Said About Having Kids
Hearts were broken Monday morning as the world learned that Prince Harry, Prince William's former-bad-boy-now-decidedly-good-guy younger brother, is off the market. As of earlier this month, Harry is engaged to marry American actress Meghan Markle, The New York Times reported, so of course it is only a matter of time until royals fans start asking whether Harry and Markle want kids.
The two have been dating for over a year, according to The Daily Mail, initially meeting through friends when Markle visited London in the summer of 2016. Some will recognize Markle, 36, from her roles in Suits and the sci-fi series Fringe. The engagement was announced through the Twitter account of Clarence House, the residence of Prince Charles, the Prince of Wales and William and Harry's father. The statement released says that the couple became engaged earlier this month. So far, the congratulations the couple have reportedly received from members of their family indicates that everyone is pretty thrilled to see Harry, who is 33, so happy. Clarence House also tweeted that Charles and his wife, Camilla Parker-Bowles, the Duchess of Cornwall, are "thrilled" and "hope they'll be very happy indeed." William and his wife, Kate or Catherine, the Duchess of Cambridge, also tweeted their congratulations, as did Queen Elizabeth II and Prince Philip, Harry and William's grandparents. William and Kate remarked on "how happy [Meghan] and Harry are together."
One of the things that has apparently made William and Kate very happy is having their children, George and Charlotte, and the couple is expecting another child in April. (It's going to be a busy spring for the Windsors.) And it seems that Harry and Markle also see children in their future, at least according to what they've said on the subject in the past.
In a 2016 interview with People, Harry sounded a bit ambivalent, at least about having kids then:
There have been moments through life, especially when we do a tour abroad, when I think, 'I'd love to have kids now.' . . . And then there are other times when I bury my head in the sand going, 'All right, don't need kids!' There's no rush. I think . . . I tell you what: There's been times I've been put off having children.
But then in April 2017, he sounded more sure, saying in a candid interview with The Telegraph's Mad World podcast, "Of course, I would love to have kids," People noted.
A year ago, Markle shared her views on having children with the print publication Lifestyle, saying that while she's happy with what she has accomplished professionally,
I also dream to have a family. It's all about balance, and I have so much happiness in my career and am fortunate to travel the world and see so many amazing things - it will also be nice to be anchored to something grounded and in the same place. Raising a family will be a wonderful part of that.
If Harry and Markle do have children, they likely won't have royal titles, i.e. "His Royal Highness." Thanks to a decree or "Letters Patent" issued by Queen Elizabeth II's father, George V, in 1917, the grandchildren of the sons of the monarch have Lord and Lady titles, "the style and title enjoyed by the children of Dukes of these Our Realms," The Mirror reported. However, the Queen could overrule that with a Letters Patent of her own, as she did for Princess Charlotte when Kate was three months pregnant with George, declaring that "all the children of the eldest son of the Prince of Wales should have and enjoy the style, title and attribute of royal highness with the titular dignity of Prince or Princess prefixed to their Christian names or with such other titles of honour." Whether she will do the same for Harry's children remains to be seen.
But there's another question around Harry and Markle's potential offspring, perhaps a stranger one for the British: Would their children, who would be in the line of succession, albeit fairly far down, be... gasp... American? Or would Markle be asked to renounce her citizenship to avoid that? We'll just have to see. In the meantime, these two lovebirds look pretty happy together.
Check out Romper's new video series, Romper's Doula Diaries:
Watch full episodes of Romper's Doula Diaries on Facebook Watch.