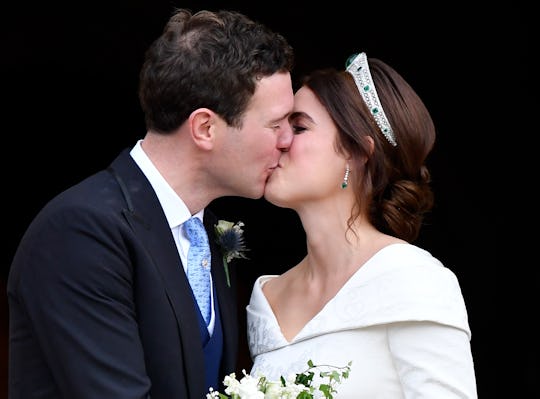 WPA Pool/Getty Images Entertainment/Getty Images
All The Best Moments From Princess Eugenie's Wedding, In Case You Slept In
Did you sleep in on Friday morning? Past 4:30 a.m. Eastern Time, I mean. Of course you did; that's not called sleeping in really, it's just called regular sleeping habits of normal people. Unfortunately, your sleeping habits got in the way of watching the wedding of Princess Eugenie and Jack Brooksbank live, as this girl right here did. But don't worry about it — I've got you covered. I've compiled a list of all the best moments from Princess Eugenie's wedding so you can skip over anything dull and get right to the good stuff.
Despite a few rather quiet moments during the ceremony (which would have honestly just reminded you of every family wedding you've ever been to, trust me), the wedding of Princess Eugenie and Jack Brooksbank was full of pomp and circumstance. Just as a royal wedding should be. There were celebrities on hand to join the royals at St. George's Chapel at Windsor Castle for the wedding. And while there wasn't exactly a whole lot of drama, there were some moments you probably don't want to miss.
Flying Fascinators
As much as I've always admired the British tradition of wearing fancy hats to weddings, I've never really considered the possible ramifications of this fashion choice. Namely, what the hell are you supposed to do if it's windy? Wind was a real problem at Princess Eugenie's wedding, and it was maybe a little entertaining watching all of these fancy folk chasing their fascinators down when they fell off their heads.
Celebrity Sightings
Man do I ever love a crossover episode. Finding out people are friends in real life that you might never have matched up otherwise. It seems Princess Eugenie and Jack Brooksbank have some pretty interesting celebrity friends who showed up to watch them get married. People like Demi Moore, Liv Tyler, Cara Delevingne, and Ricky Martin, for instance. Also here's a PSA for you; Ricky Martin is seriously hotter than he's ever been. Check it out for yourself.
A Perfect Tiara
There's this etiquette thing in the royal family that states only married members can wear tiaras. Which meant that Princess Eugenie's wedding was the first time she wore a tiara... and she had the chance to wear a gorgeous one as her "something borrowed." Queen Elizabeth loaned her granddaughter the Greville emerald tiara for her wedding day, which features a massive emerald that looked stunning with Princess Eugenie's red hair and green eyes.
Kate & Meghan & William & Harry
The Duke and Duchess of Sussex and the Duke and Duchess of Cambridge were all at the wedding. Kate Middleton wore a raspberry mid-length dress by Alexander McQueen and Meghan Markle wore a navy Givency dress. Both wore understated fascinators. Prince William and Kate Middleton held hands for a second, which was pretty exciting since they never have any PDA, but other than that they were pretty quiet. Still, just their attendance was exciting enough.
Sarah Ferguson, Your Everyday Hero
Sarah Ferguson is the mother of the bride and the ex-wife of the Duke of York. She has a contentious history with the royal family; so much so that she wasn't even invited to Prince William and Kate Middleton's 2011 wedding. But did she let that uncomfortable history stop her from walking into St. George's Chapel with all the confidence in the world? Nope. She strutted her stuff, smiling and waving. Even letting out a sigh of relief when she eventually sat down. And I loved every minute of it.
The Prince George & Savannah Show
Prince George acted as page boy for Princess Eugenie's wedding, and his cousin Savannah Phillips was a bridesmaid. Now some of you might remember Savannah Phillips and Prince George getting into some shenanigans during the Trooping The Color on the Buckingham Palace balcony earlier this year. Well, these two can't seem to keep a straight face when they're together, even at a royal wedding. And it was utterly delightful.
Nothing Better Than A Weepy Groom
Jack Brooksbank cried when he watched Princess Eugenie walk down the aisle on the arm of her father, Prince Andrew. And that's all I need to say about that.
What's Your Ring Size Again?
Fortunately Brooksbank was able to put on a happy face when he tried to put a wedding ring on Princess Eugenie's finger and it didn't quite fit. The couple laughed it off and Brooksbank could be seen later in the ceremony fiddling with the ring, perhaps trying to make it fit.
Sealed With A Kiss
When Jack Brooksbank and Princess Eugenie kissed for the first time as husband and wife in front of a cheering crowd outside of the chapel... I mean, yeah. Who doesn't love love?
Princess Charlotte Is Totally Over It
It's possible little Princess Charlotte doesn't love love, actually. Or maybe she's just seriously over waving. Or maybe she has had enough of long weddings where there's a lot of talking and sitting in a stuffy old church. Whatever the case may be, Princess Charlotte wasn't her usual exuberant self when she and the rest of the kids were driving away from the church. To be fair, she was seriously into the waving at the start.
So there you have it, folks. Some of the best moments of the royal wedding so far. Full disclosure here, there will probably more great moments unfolding behind the scenes. Stay tuned.