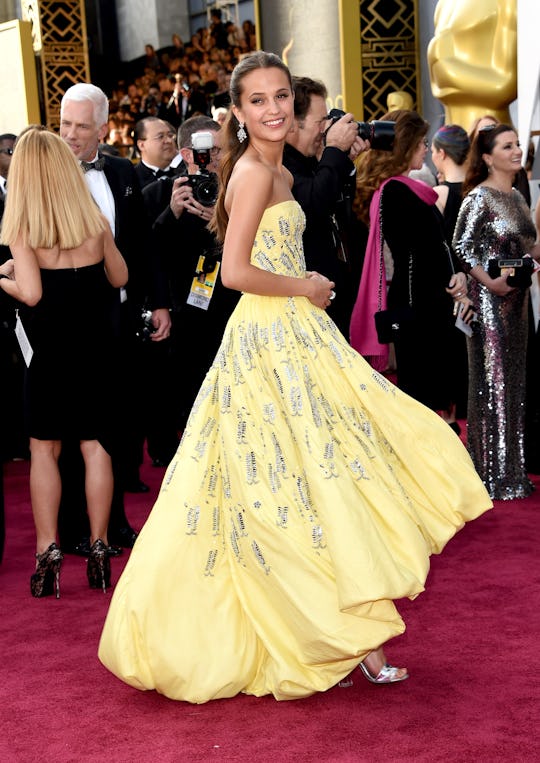 Jason Merritt/Getty Images Entertainment/Getty Images
All The Disney Comparisons On The Oscars Red Carpet
Hollywood's stars have gussied themselves up in their Oscars Sunday finest and there's one unusual fashion theme Twitter started seeing over and over again on the red carpet: lots of (mostly) unintentional nods to Disney characters. At first we thought maybe it was just Alicia Vikander's dusty yellow ballgown channeling Belle from Beauty and the Beast after she was one of the first to arrive on the red carpet Sunday night. But, as more and more stars began to make their way down the Oscars runway, Disney appeared to have become the look du jour. Here are all of the Disney comparisons on the Oscars red carpet.
Besides Vikander's "look there she goes that girl is special" wink to Belle, actress Charlize Theron sported a plunging v-neck, body-hugging red gown — think Jessica Rabbit without the hair. Some Disney comparisons haven't been as kind, however, as some thought Whoopi Goldberg's custom octopus hand-piece and black dress styled after Bette Davis in All About Eve had an Ursula vibe going on — which, totally not fair, because Goldberg looked gorgeous on the red carpet. But perhaps the most brutal comparison was for Heidi Klum's '70s lavender chiffon throwback, which seemed like it was more Fairy Godmother than Cinderella.
Bibbity, Bobbity, Boo!
A Tale As Old As Time
A Poor Unfortunate Soul?
I'm Just Drawn This Way
Here's hoping the Oscars don't run over tonight — like they usually do — since I have a feeling some of these Disney-styled stars could turn into a pumpkin after midnight.