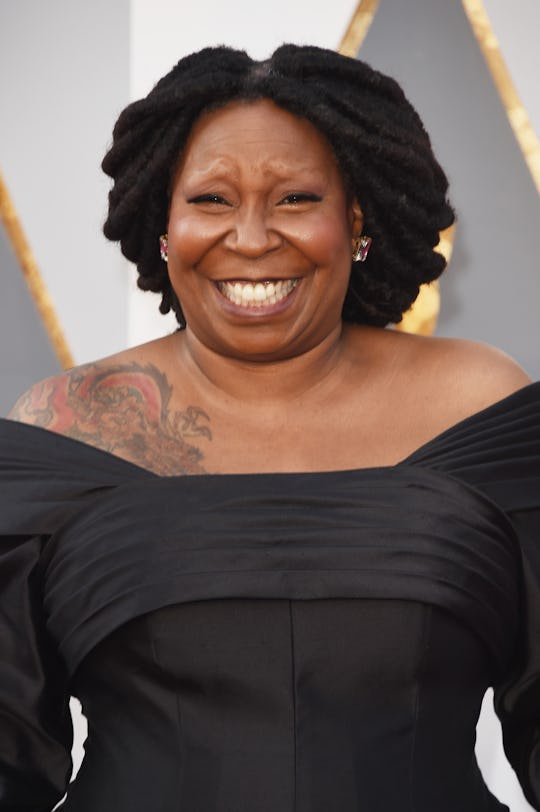 Jason Merritt/Getty Images Entertainment/Getty Images
What Is Whoopi Goldberg's Tattoo? The Comedian's Oscars Dress Showed Off Her Awesome Ink
It's Oscars Sunday, so that means it's time to gawk at all the gorgeous people working it on the red carpet. There's one question that everyone asks: "Who are you wearing?" — and it applies to everything from dress to jewelry to shoes. But one comedian and TV talk show host is wearing one particularly unique accessory this evening: Whoopi Goldberg's tattoo is probably the most kick-ass accessory this evening on the red carpet.
Dressed in an understated but lovely black, three-quarter sleeve dress with a stunning portrait neckline, Goldberg told the press that her dress was inspired by Bette Davis in the 1950 film All About Eve. Most stunning about her Oscars ensemble is that her graceful neckline revealed a large, intricate tattoo along her right shoulder and collarbone.
The 60-year-old co-host of The View is known to have a Woodstock tattoo on her left shoulder, but photos of Goldberg rarely show the elaborate tattoo she sports on the other shoulder. From red carpet photos tonight, we finally get to see Goldberg's lovely Chinese dragon tattoo. It's clearly an older tattoo, as the ink is definitely faded a bit. But it's still so refreshing to see someone like Goldberg show off her ink instead of hide it.
Goldberg launched a line of bedding and linens with QVC inspired by her dragon tattoo and her love of 1920s and Chinoiserie styling; She's always had a flair for working with interior and home design. In an interview with Home & Textiles Today, Goldberg talked about her love of dragons and how it inspired her to create an entire home linens line around her tattoo's look and theme:
I love dragons — I have dragon tattoos. For me the dragon is a protector, and when I'm sleeping I want to feel I'm protected.
Twitter has already blown up about Goldberg's tattoo reveal on the red carpet; Perez Hilton even dubbed Goldberg as "the girl with the dragon tattoo":
Goldberg also sported an amazing custom hand-piece by jeweler Sevan Biçkaçi with diamonds and a gigantic freshwater pearl — a delightfully quirky octopus with tentacles wrapped around her hand and fingers.
Goldberg is one of the many presenters lined up for the 88th Annual Academy Awards on Sunday. Despite a proposed #OscarsSoWhite boycott of the show due to the lack of diversity in the nominees for a second year in a row, the Oscar-winning actress still committed to presenting with fellow presenters Chris Rock and Kevin Hart, speaking about the race issue on The View:
So I'm not going to boycott, but I'm going to continue to bitch, as I have, all year round, because I'm tired of seeing movies where no one is represented except a bit of the population.