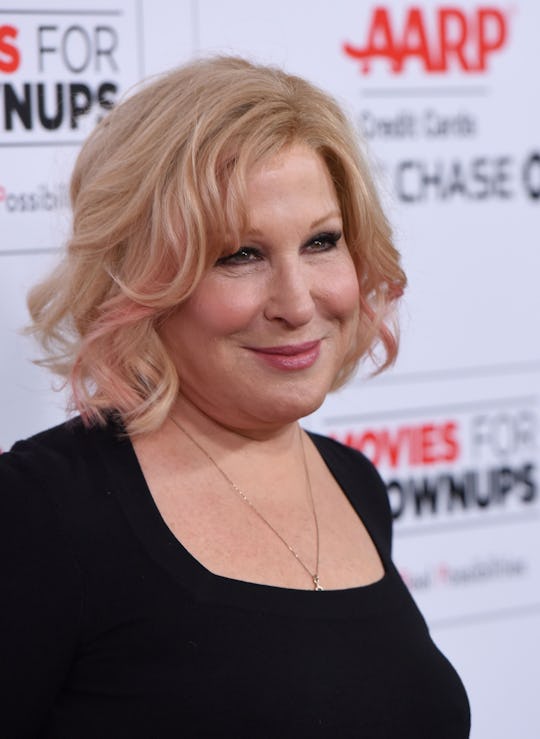 ROBYN BECK/AFP/Getty Images
Bette Midler's Tweet About The Oscars Perfectly Captures The Awards' Race Problem
The 88th Annual Academy Awards are here and stars have already begun strutting down the red carpet. But for all the Hollywood glitz and glam, the biggest awards night of the season is not without controversy this year — and it's Bette Midler's tweet about the Oscars that has summed up the white-washed awards show's race problem this year. The 70-year-old actress posted a tweet on Sunday afternoon, calling out the Oscars for its noticeable lack of diversity: "The Oscars are today! You know, the awards show where Leonardo DiCaprio is 'overdue' but black people can 'wait till next year.'" Holy cow, Bette: girl, you nailed it.
For the second year in a row, no black actors were nominated for Oscar awards. The outcry after the nominees were announced was almost immediate and honestly, well deserved; Jada Pinkett Smith even called for a boycott of this year's Oscars. But not everyone felt that the Academy Awards has a race problem. Within days of Pinkett Smith's calls for a boycott, The Fresh Prince of Bel-Air actress Janet Huber called out her fellow actress on her #OscarsSoWhite boycott, criticizing her for asking black actors to compromise their careers and standings within Hollywood by snubbing the biggest awards night of the year, saying black actors "don't care" about the issue.
But the fact of the matter is, the Oscars absolutely have a race problem, one that speaks loudly to a bigger issue. That's the beauty of Bette's tweet: she manages to call out the audacity of asking minorities and people of color to wait their turn so a white actor like Leonardo DeCaprio can have his moment in the spotlight. She's summed up Hollywood's problem in 140 characters or less and perfectly slayed it at the same time.
Contributing opinion writer Roxane Gay, writing for The New York Times, summed up how the Oscars' race issue is one that puts a fine point of the head of a much larger problem in Hollywood:
Hollywood has a race problem. Hollywood has always had a race problem. The movie industry continues to ignore audiences of color, to its own detriment, given the box office success of movies that do feature diverse casts. It continues to ignore the simple fact that people of color want to see their lives reflected in the movies they watch. Representation is not a lot to ask.
The Oscars are being hosted by Chris Rock for a second year in a row. As the countdown begins to the Oscars broadcast, we have to wonder: Will the black comedian and actor address the Big White Elephant in the room?