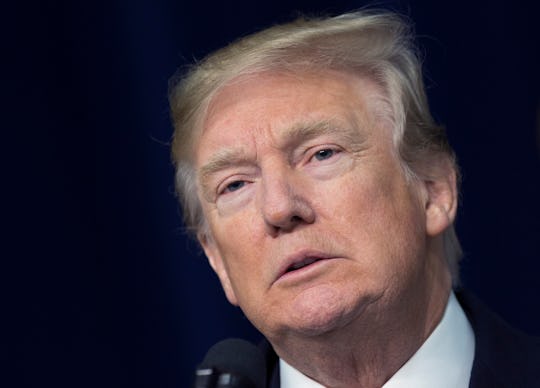 Pool/Getty Images News/Getty Images
All The Donald Trump Jokes At The Golden Globes Prove Hollywood Isn't Holding Back
When President Trump woke up on Sunday morning, I wonder what he was most worried about. After presumably clearing away a McDonald's feast from his night stand, was he worried about being mentioned at the Golden Globes by host Seth Meyers? Or was he more concerned about not being mentioned at all? Perhaps ignored as the entire country and (more importantly to Trump) the entertainment industry finally succumbed to Trump fatigue? I'm guessing it was more the latter, but he needn't have worried. These Trump jokes from the Golden Globes should keep the Tweeter-in-Chief in a merry lather for days to come.
Seth Meyers initially told The Hollywood Reporter that he planned to steer clear of Trump jokes at this year's most anticipated awards ceremony. Not because he was trying to protect the president's feelings; far from it. The 44-year-old host of Late Night with Seth Meyers told the news outlet that he had better subjects to cover this year than the president:
"Especially this year with everything that's happened in Hollywood, it seems far more important to have the focus there as opposed to anything that's happening in Washington."
Considering the monumental watershed movement of actresses who have come forward with allegations of systemic sexual abuse and harassment in Hollywood, Meyers felt the president might be (probably much to the man's chagrin) rather old news.
But, and this was a big but, he did reserve the right to change his mind if something interesting happened closer to the day. Meyers was especially interested in covering the #MeToo and more recent Time's Up movement, and was smart enough to lean on his human rights attorney wife Alexi Ashe to make sure he was dealing with the sensitive topic of sexual harassment with the right tone:
"I don't know if I would've wanted to do this without her counsel in talking about it and she's a smart enough woman to know that I probably shouldn't have done it without her help."
But let's face it here; talking about powerful men who have used their position to harass and intimidate women might possibly lend itself to jokes about the president. Especially considering his reported track record in that arena.
So naturally, Meyers managed to slide in a few keepers about Trump.
Pointing to Seth Rogen: "Remember when he was the guy making trouble with North Korea?"
Meyers remembered a moment when he made a joke about Trump not being qualified to be president, and this apparently encouraged him to run. Meyers looked at Oprah and said:
"If this is true, I just want to say... Oprah, you should never run for president!"
While Meyers mentioned that this "room might look like it's full of the Hollywood elite," he went on to note that the people who "made it" in the room rarely got to rely on their rich father for success. This was clearly a brilliant, if more serious pot shot at Trump, who inherited much of his wealth. A reminder that the recent slant Trump has attempted to put on his detractors in Hollywood.
It's not as though mocking Trump during the opening monologue of an awards show is especially groundbreaking; Jimmy Fallon got in a few solid jabs at last year's Globes ceremony, and naturally Stephen Colbert's Trump jokes at the 2017 Emmys were on point (although that whole Sean Spicer bit fell horribly flat in my opinion; read the room, guys).
That was then and this is now. And so much has changed since then. Many people in the country are struggling to come to grips with the reality of living in Trump's America, and somehow it seems less comical than it did a year ago. Which can make an awards show host's job something of a ticking time bomb.
Thankfully, Meyers managed to hit the right note at a difficult time. His pitch-perfect monologue stayed heavily centered on the issue of sexual harassment, but managed to touch on Trump as well with just enough sardonic wit. Now all we have to do is wait for Trump to lose his ever-loving mind on Twitter in response. Presumably after he enjoys a little McDonald's in bed.
Check out Romper's new video series, Romper's Doula Diaries:
Watch full episodes of Romper's Doula Diaries on Facebook Watch.