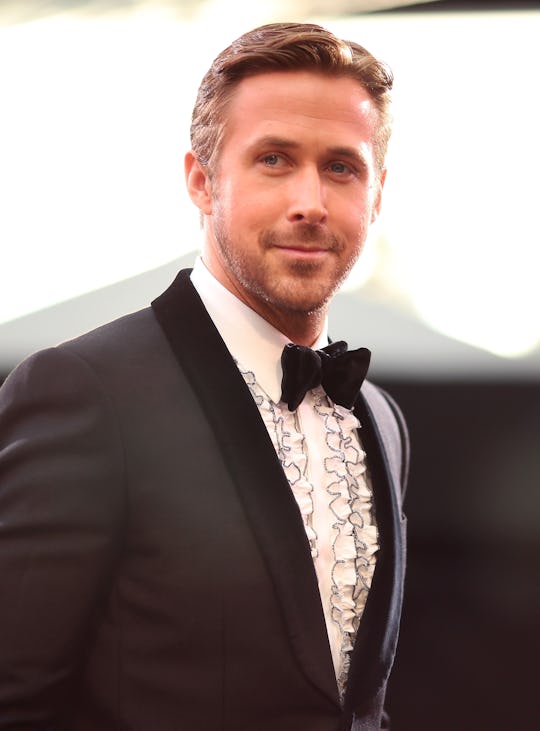 Christopher Polk/Getty Images Entertainment/Getty Images
Let's Talk About Ryan Gosling's Ruffle Shirt
Ryan Gosling can do no wrong as far as I'm concerned. First of all, he was born in Canada. Then he danced and played piano in La La Land, the movie that landed him an Oscar nomination for Best Actor. And now, he shows up wearing a ruffled shirt, and I just can't event. But as much as I love him, it's hard not to pick on the actor's wardrobe a little bit. I mean, there are so many things Gosling's ruffle shirt at the Oscars looks like.
So here are a few things to keep in mind when going full ruffle. One, you sort of have to look like Ryan Gosling and also be Ryan Gosling to look good in such an item. Two, it's probably a good idea to have Gucci throw a nice little tuxedo together for you. Because, in my not terribly humble opinion, a little Gucci ruffle can go a long way. Sure, some people might look at Gosling's ruffle shirt and think, "Hold on, didn't my prom date circa 1979 wear that exact same shirt? "To which I must respond, "Was your prom date Ryan Gosling? No? I didn't think so." Although I might have very much enjoyed Gosling's ruffle shirt at the Oscars, the internet had other feelings.
Some noticed a strong sense of deja vu, particularly those Seinfeld fans out there.
And okay, perhaps I recognized the shirt a little from my earlier days as a little girl in kindergarten. As did other women who enjoyed ruffle underpants as children.
There is another young man who once pulled off the ruffle shirt/tuxedo combo. Some Harry Potter fans might remember Ron Weasley in a Gosling- style ruffle shirt. Gosling looked a little happier about it.
Despite the fact that Gosling is having a dynamite year (La La Land has been nominated for 14 Oscars, tied with Titanic and All About Eve for most Oscar nominations ever, according to the official Oscar's website), some fans were unrelenting in their criticism.
Some Gosling lovers, like Yours Truly, were quick to jump on board the ruffle train. Perhaps they also noticed that he is a beautiful specimen who sort of gets to wear whatever he wants.
So the verdict is out on Gosling's shirt, I suppose. Some loved it, some hated it, some were confused by it. But here's one thing we can all agree on; isn't it just a beautiful world when we get to see Ryan Gosling at all? Exactly.