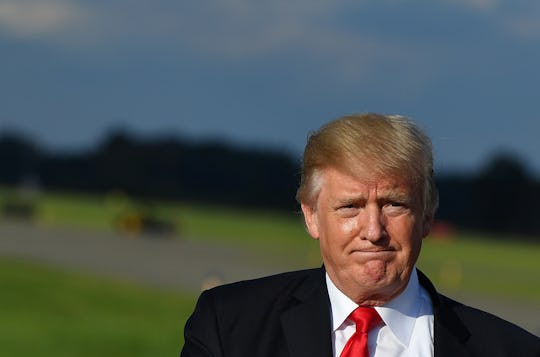 MANDEL NGAN/AFP/Getty Images
All The Trump Jokes From The 2017 Emmys, Because They Practically Write Themselves
In today's political climate, it's pretty much impossible for any event not to bring up the reality television star running America. While many have complained that celebrities are too political these days, it's important to remember that they're just people, and people are allowed to have opinions. And so, on a night like Sept. 17, when some of the world's biggest celebrities gather to celebrate great television, it's no surprise that politics are brought up. But, because the Emmys are filled with comedians, most of the political commentary was pretty funny. Yeah, all the Trump jokes from the 2017 Emmys will make you laugh — and then maybe make you cry.
Considering that this past season of Saturday Night Live was rife with political jokes and an extremely commendable Trump impression from Alec Baldwin, it really isn't too shocking that the show was nominated for 22 Emmy Awards Sunday night. With SNL's success, many other shows have followed, using America's heightened political climate as a playbook for jokes, as well as for some important social and cultural criticisms.
So, the Emmys, filled with what Republicans love to brush off as "Hollywood liberal elites," are a prime time to poke fun at America's current leadership. Because, let's face it, sometimes laughter really is the best medicine.
The Opening Segment Was Political AF
With Stephen Colbert hosting the show this year, it's to be expected that he would poke some fun at Trump, so when Colbert got the night started with a musical number all about distracting viewers from the actual horrors of the real world, the audience and viewers at home both knew that they were in for a treat. And truly, Trump has made it more than clear that he wants nothing to do with Hollywood liberals, and they (for the most part) want nothing to do with him.
Many, many celebrities have spoken out against Trump and his policies, and have shown that — despite what many people may think about them — they are smart and they are informed. So, Julia Louis-Dreyfus' joke during Colbert's opening number, "imagine if your president wasn't loved by Nazis," was both timely and accurate.
Colbert also took some time in his monologue to poke fun at Trump. "Of course, there's no way anyone could possibly watch that much TV," he said, "other than the president, who seems to have a lot of time for that sort of thing." Colbert went on to joke about Trump's tweeting habits, saying he was "looking forward to the tweets."
And it didn't end there. Colbert also called out Trump for being "the biggest TV star of the year," which is unfortunately accurate. He also went on to say that if Trump had won an Emmy for The Celebrity Apprentice, maybe he wouldn't be president, which is also true. "You like Walter White," Colbert went on, "he's just Walter Much-Whiter." Colbert also used footage from a debate between Trump and Hillary Clinton when Clinton mentioned Trump was still upset about not winning an Emmy, and Trump chimed in, "Should've gotten it."
Yes, really.
The hits just kept coming, as Colbert said, "Unlike the presidency, Emmys go to the winner of the popular vote." And Colbert continued to make fun of Trump's obsession with ratings, bringing out Sean Spicer (and not even Melissa McCarthy's version) to talk about the evening's turnout. "This will be the largest audience to witness the Emmys period," Spicer said.
Colbert Kept The Trump Jokes Coming, Although Some Were More Subtle
In a spoof of Westworld, when Colbert was asked whether he had ever questioned his reality, he replied, "every day since November 8th." Seriously, I feel you, Colbert.
Alec Baldwin Won, And He Didn't Hold Back
Winning in his category for Outstanding Supporting Actor portraying Trump on SNL, Baldwin joked, "I suppose I should say, 'At long last, Mr. President, here is your Emmy.'" He added that putting the orange Trump wig on was a great form of birth control, which ... yeah.
Jane Fonda Presented, And Even Without Naming Names, Managed To Have Some *Words*
There to present an award, Lily Tomlin, Dolly Parton, and Jane Fonda reunited as the cast of 9 To 5, and decided to just go for it. "Back in 1980, in that movie," Fonda said, "we refused to be controlled by a sexist, egotistical, lying, hypocritical bigot." Tomlin continued, "And in 2017, we still refuse to be controlled by a sexist, egotistical, lying, hypocritical bigot."
Kumail Nanjiani Got Real About Immigration
Presenting the award for Outstanding Reality Series, Nanjiani said that these shows "celebrate people who frantically race across international borders and those who can scale walls really, really quickly. In other words, the president's worst nightmare." I mean, yeah, basically.
Veep Admitted Where It Got A Lot Of Its Inspiration
While accepting the award for Best Actress in a Comedy, Julia Louis-Dreyfus joked about possible plot lines on Veep. "We did have a whole story line about an impeachment but we abandoned that because we worried that someone else might get to it first," she quipped.
Then, when Veep won again for Comedy series, the show thanked many other television shows for inspiration, including, "the Trump White House."
And truly, how could anyone be surprised that the Emmys poked fun at Trump? So many of the nominations this year were for shows that put a lot of effort into making fun of and criticizing this administration. Along with SNL, the widely popular Full Frontal with Samantha Bee was nominated for an Emmy, as well as Full Frontal with Samantha Bee Presents Not the White House Correspondents' Dinner.
Of course, pretty much all of the variety talk shows nominated at Sunday night's Emmys managed to poke fun at Trump throughout their seasons. Jimmy Kimmel Live, Last Week Tonight with John Oliver, The Late Show with Stephen Colbert, and The Late Late Show With James Corden all commented on Trump's presidency this past year, so it's only fitting for the actual awards show to get political.
And seriously, there's nothing wrong with that. Many Trump supporters have voiced their annoyance at Hollywood getting too involved in the 2016 presidential election, but would they be so irked if celebrities were celebrating Trump and cheering him on? Doubtful.
The truth is, everyone is entitled to their own opinions, and while the electoral college may have handed Donald Trump a win, the popular vote did not.
There are 2,864,974 more people in the United States who voted for Clinton than there are for Trump. So, the fact that most of Hollywood isn't exactly a big fan of the groper himself isn't really too surprising. Trump may be president, but that just means that there will be even more jokes coming his way. And I, for one, appreciate them all.
Check out Romper's new video series, Romper's Doula Diaries:
Check out the entire Romper's Doula Diaries series and other videos on Facebook and the Bustle app across Apple TV, Roku, and Amazon Fire TV.