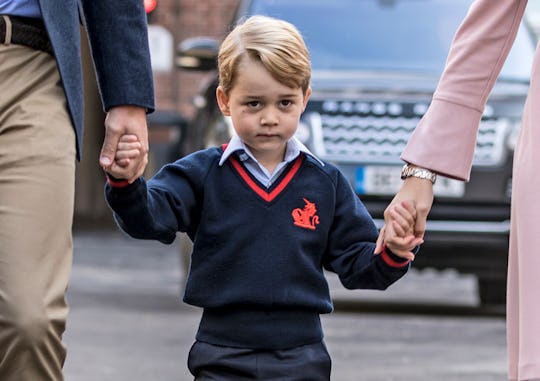 WPA Pool/Getty Images Entertainment/Getty Images
All The Ways Prince George Is Such A Cancer
Prince George is about to turn five years old on Sunday, which seems almost completely impossible. And yet here we are in 2018. Since Prince George' birthday falls at the end of July, this makes his astrological sign a Cancer. For those of you who don't follow the astrology charts, let me fill you in on all the ways Prince George is such a Cancer that it's kind of adorable.
The young prince, who is the oldest son of the Duke and Duchess of Cambridge (or Prince William and Kate Middleton to some), was born on July 22, 2013. This makes him a Cancer, but only just barely since July 22 is the last day for this sign. One more day and he would have been a Leo like me, and from what I understand this is never good news. Luckily for Prince George, and I guess the rest of the United Kingdom since he could be a king someday, Cancer seems to be a pretty solid sign. According to Horoscope.com, people born under the water sign of Cancer (or the crab) tend to be loyal, creative, shy, with a wry sense of humor and an intense need for privacy. They're also considered "incredibly psychic," able to tell what a person is thinking before they even open their mouths. Which is why Cancers tend to hate small talk, I guess since they already know what you're going to say.
Shy Guy
Prince George's precocious 3-year-old sister Princess Charlotte seems to embrace the spotlight when she's out in public; she's been seen perfecting her wave to photographers, playfully sticking out her tongue and just giving all kinds of sass. This is not the case with Cancer sign Prince George; when he was a page boy at his uncle Prince Harry's May wedding to Meghan Markle, he tried to hide behind his dad's leg and seemed to need coaxing to wave shyly at the public. His dad Prince William understands; he is a fellow Cancer who also struggled with shyness, as was his mother Princess Diana.
Creative Pizza Maker
Cancers tend to be highly creative, according to Biography.com, and Prince George is no exception. As his mom Kate Middleton said while attending a lunch at St Luke's Community Centre in London in March, the young royal loves getting his hands dirty and making his own pizza dough. According to E! News the Duchess of Cambridge said:
I've done that with George and Charlotte—making pizza dough. They love it because they can get their hands messy.
Funny Kid
Prince George apparently has a good sense of humor, which makes sense considering both his parents seem to have perfected that dry wit thing British people are so famous for. When his cousin Savannah Phillips jokingly covered his mouth to stop him singing at The Trooping The Colour in June, Prince George didn't get offended. In fact, like a true Cancer who loves to laugh, he seemed to think it was pretty funny.
Loyal To A Fault
Cancer signs are meant to be loyal, especially to their family, and Prince George is no exception. He clearly loves both of his parents and even his little sister (although she is reportedly the bossier of the two), and even Queen Elizabeth has been said to have a close relationship with the young royal.
Say No To Small Talk
Unfortunately for Prince George, small talk is definitely going to be a part of his future. Because he's a Cancer, this might not be so great for him. But his natural insight might help him out... like the time when he was two and he called out his uncle Harry for being unnaturally quiet during an interview with President Obama.
It seems like being a Cancer will help Prince George as he gets older, especially in his role as a member of the British monarchy. But for right now, here's hoping he has a great fifth birthday.