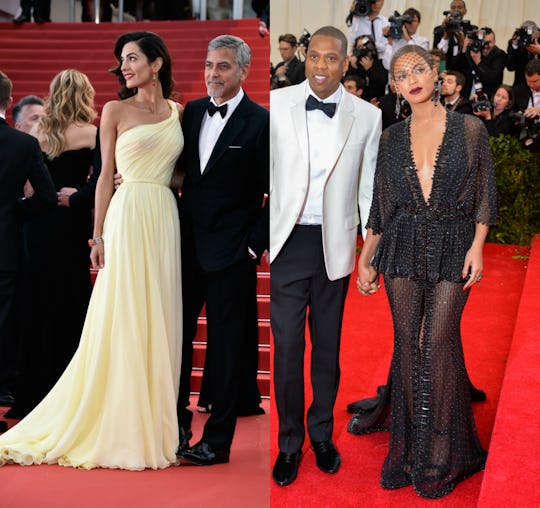 Pascal Le Segretain/Getty Images Entertainment/Getty, Andrew H. Walker/Getty Images Entertainment/Getty Images
Amal & Beyoncé's Twins: The Ultimate Wolf-Pack
I don't know if Amal Clooney and Beyoncé are friends yet, but I see a friendship coming their way. A golden pairing of power moms, cool chicks with smarts and style and sass, and all of the things we all hope to someday be. And once that friendship has solidified... let's talk about the twins. Because Amal Clooney and Beyoncé's twins are destined to be the most epic wolf-pack ever. So sayeth the internet.
Julie Chen of The Talk shared the exciting news on Thursday that the fabulous Clooneys (39-year-old international human rights lawyer Amal and her 55-year-old husband, actor George Clooney) were expecting twins. Which could have seemed like some sort of deceptive thunder-stealing from our beloved Beyoncé and her husband, rapper Jay Z. After all, Queen Bey broke the internet last week with her thunder clap of a pregnancy announcement/photo shoot to let us know of her twins.
But these women don't play like that. Both Clooney and Beyoncé know how to share center stage without losing their presence, and so it is that the world as we know it will soon be blessed four times over. Illuminati theorists? Are you having a heart attack yet at the thought of four tiny, perfect leaders set to take over the world? Because I'm pretty pumped. As is the internet.
The two families are different, sure. I mean, just look at the way they both "announced" their impending arrivals. While Amal Clooney has yet to offer an official comment about her pregnancy, Beyoncé took matters into her own hands.
But it is these different styles and backgrounds that could lay the groundwork for a historic wolf-pack; The Clooney twins can bring their internationally-cultured flair and all-around humanitarian prowess to the table.
I am picturing tiny children in stylish ankle pants and brightly colored neckerchiefs sipping espresso and saying "Ciao, bella!" to passers-by (on account of the Clooneys living in Italy, of course). While the Carter twins are going to be more cosmopolitan, probably a little hip. Those cool kids with that indefinable something, you know?
I don't want to put pressure on the twins to rid the world of social injustice, reverse the damage of climate change, end child poverty, and be the first presidency that boasts a four-way sharesies, or anything. I'm just saying... it could happen.
If the twins don't become an amazing wolf pack, going on wild adventures through the forest, riding unicorns along the beach, and taming lions with their superstar good looks, it's not like I'll be depressed or anything.
Just incredibly distraught and disappointed. Which is so much worse.