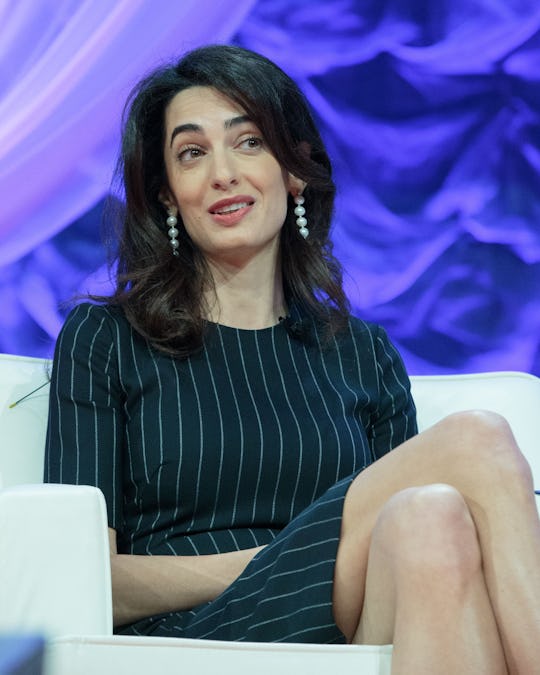 SUZANNE CORDEIRO/AFP/Getty Images
Amal Clooney Says Donald Trump's Plan For ISIS Is The One Positive Aspect Of His Win
Breastfeed, don't breastfeed. Stay-at-home mom, working mom. Single, married. Gay, straight. It doesn't matter because we are all women. So sayeth international human rights lawyer Amal Clooney. As she gave the keynote speech at the Texas Conference for Women, Clooney suggested we all perform "everyday acts of feminism". She reminded women in the audience of the power of supporting each other, and even offered a little light in what can feel like a bleak future for women right now. During her inspired speech, Clooney touched on Donald Trump's plan for ISIS, quoted former Democratic presidential nominee Hillary Clinton, and had some tough words for the United Nations. She was absolutely on fire.
At the Texas conference, where the theme was The Power of Us, Clooney reached out with some tentative praise for President-elect Donald Trump's plan to defeat ISIS.
The president-elect has said that fighting ISIS is actually a priority … so it may be that there can be progress, and obviously everyone has to respect the outcome of the democratic process here, and we have to hope for the best.
Clooney went on to condemn Trump's proposed Muslim registry, saying that such a registry would be considered "violations of international human rights law and the values that underlie that."
Beyond Trump, Clooney had some inspiring words for women, and how we can best support each other on an every day basis. She proposed everyday acts of feminism:
The worst thing that we can do as women is not stand up for each other, and this is something we can practice every day, no matter where we are and what we do — women sticking up for other women, choosing to protect and celebrate each other instead of competing or criticizing one another.
Clooney certainly puts her money where her mouth is; she has been a staunch defender of Yazidi sexual assault victims, who were raped and brutalized by ISIS leaders, and in June announced that she would like to see those ISIS leaders stand trial for rape. She admonished world leaders for their lack of action in a speech delivered to the United Nations in New York this September, saying:
I wish I could say I was proud to be here. But I'm not. I'm ashamed as a human being that we ignore their cries for help.
Clooney ended her epic speech in Texas by quoting Clinton herself;
Women's rights are human rights. Holding back women is holding back half of every country in the world.
A powerful reminder to women everywhere that our legacy in this world will continue.