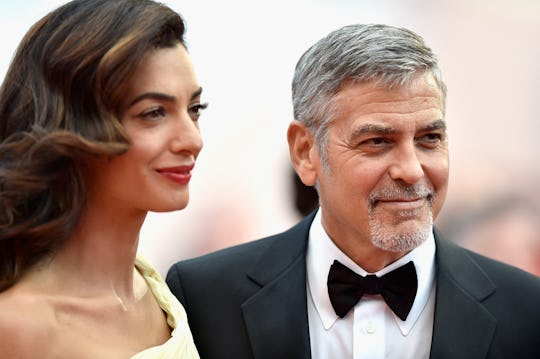 Pascal Le Segretain/Getty Images Entertainment/Getty Images
Pregnant Amal Clooney Is Serious Goals
For weeks, people have been speculating about Amal and George Clooney's reported pregnancy — until George confirmed the very exciting news this past week. And fans are now getting a look at the confirmed pregnancy bump for the first time, just a few days later. On Friday, Amal Clooney showed off her pregnancy bump for the first time since the announcement of the news — and she looks absolutely amazing.
At an event in Paris on Friday evening, Amal made her first red carpet appearance since George spoke openly about Amal's pregnancy. Amal could not look more flawless in a breathtakingly gorgeous white dress with feathers on the bottom (custom Versace couture, according to Cosmopolitan) and the most powerful bright red lipstick. George looked okay too on the arm of his wife. According to People, Amal and George were in town for the 42nd César Awards, where George was presented with a "career award" for being "the most charismatic actor of his generation." But Amal could win an award for how fantastic she looks and how well she shows off her pregnancy bump. According to Us Weekly, Amal and George are reportedly expecting their twins in June, which would make Amal around five months pregnant. This could not be any more exciting.
This past Sunday, according to Us Weekly, George confirmed the news of Amal's pregnancy in an interview on French program Recontres de Cinema, saying:
We are really happy and really excited. It's going to be an adventure. We've embraced it with arms wide open.
It truly will be an adventure for the first time parents who have remained quiet about pretty much everything in their private lives, especially about their plans to have children.
While this might be Amal's first red carpet appearance since George confirmed the news, it wasn't her first public appearance. Photographers caught Amal in London on Tuesday out for the first time — but her pregnancy bump was conveniently covered by a gorgeous red coat. But Amal should definitely be proud to show off her bump — as she looks absolutely radiant and gives a new, photographic definition to the "pregnancy glow." The couple looks so happy and they have so much to look forward to — even if the addition of babies to their lives might change things a little. "It's going to change a lot of things, but, you know, that's life," George said on Recontres de Cinema, according to Us Weekly.
Amal could not look any more beautiful in her first red carpet appearance since the pregnancy announcement.