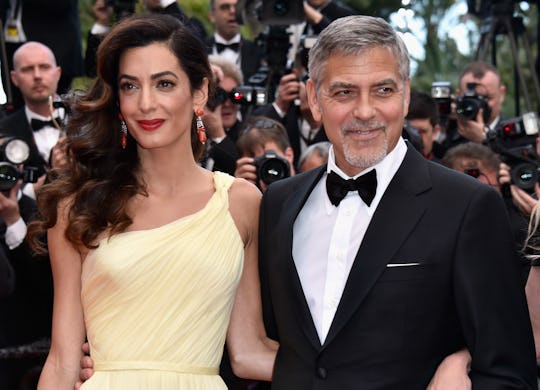 Pascal Le Segretain/Getty Images Entertainment/Getty Images
Are More Kids In Amal Clooney's Future?
By now, the news that Amal and George Clooney are expecting twins has been heard around the world, and fans could not be more excited. The news was first confirmed by People last week. While George might have been tight lipped open about the uncertainty of his future before, now that the couple is expecting, fans want more answers. Of course, George himself has seemingly come to happy terms with the idea of kids, which is a big step in the first place — but how many kids does Amal Clooney want? Because that's just as important — if not more so.
According to People, CBS host Julie Chen was first to report that the Clooneys were expecting twins on the daytime showThe Talk, saying that she confirmed the pregnancy "directly with the actor." This pregnancy great news for fans of George — especially since it seemed, for a while, that he would stay single forever (he was once called "the eternal bachelor" by The New York Post). But 2017 is the opportunity for new beginnings and change — which has been made clear by Amal's pregnancy.
In the past, George has been honest about wanting kids... just at the right time. In 2015, he told CBS This Morning, according to People, that having kids hadn't "been high" on his "list" at the time. George has been equally as unclear about just how many kids he wants, and Amal, it seems, has also kept quite on the issue (not that it's anyone's business of course).
Amal, a human rights attorney, has been more publicly outspoken about the rights of others than she has about her private life, and understandably so: She's already incredibly busy fighting for men and women around the world, including Egyptian-Canadian journalist Mohamed Fahmy, who was accused by Egyptian officials in 2013 of "aiding a terrorist group" (charges that were later pardoned) while he reported on the elections there in 2012. Amal also represented WikiLeaks founder Julian Assange in fighting extradition requests. All told, she's got a lot more on her plate than just talking to the press about how many children she wants.
For now, it seems Amal and George are definitely ready for two kids, if the reports of their impending twins hold true. Whether or not they have any more will be up to them. For now, fans should just be happy for the couple and respect their privacy.