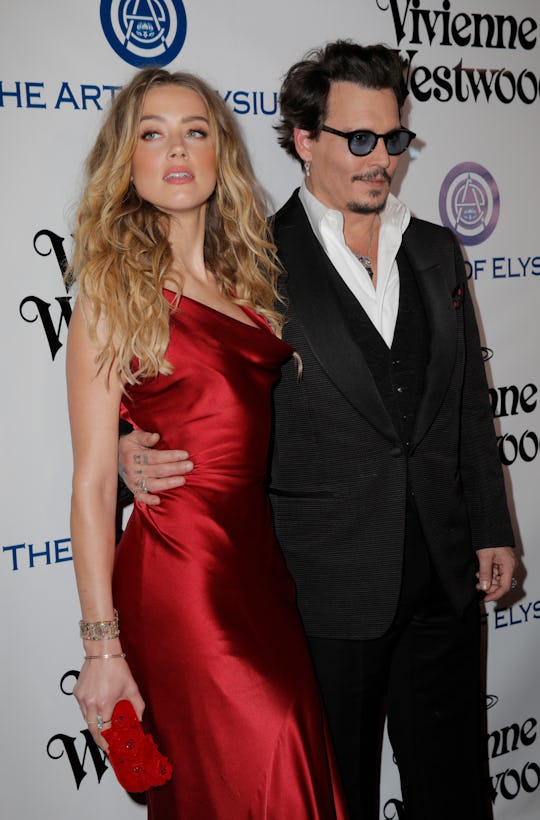 Alison Buck/Getty Images Entertainment/Getty Images
Amber Heard Files Domestic Violence Restraining Order Against Johnny Depp
Less than a week after filing for divorce from husband Johnny Depp, actress Amber Heard filed a restraining order against the actor alleging domestic abuse. She submitted pictures of her bruised face as evidence of the alleged abuse, according to People. Depp's representative, Laura Wasser, did not immediately respond to Romper's request for comment.
The couple had been married for just over a year when Heard filed for divorce Monday, only three days after Depp's mother passed away. At the time, a representative for Depp said in a statement to People:
Given the brevity of this marriage and the most recent and tragic loss of his mother, Johnny will not respond to any of the salacious false stories, gossip, misinformation and lies about his personal life. Hopefully the dissolution of this short marriage will be resolved quickly.
Update: TMZ reported Friday that a judge granted Heard's restraining order request, which means Depp must stay 100 yards away from Heard until a hearing next month. The judge denied a number of her other motions, including her request for spousal support and her request that Depp pay her legal fees, according to TMZ.
When filing for divorce, Heard cited irreconcilable differences, and requested both spousal support and for Depp to pay her attorney's fees for the divorce. Depp filed a response Thursday, according to Entertainment Weekly, requesting to turn down Heard's request for spousal support and her request to have him cover all attorney costs. Depp also filed to change the date of separation from May 22 to "To Be Determined," and wanted separation of assets such as jewelry, earnings made after separation, and more.
According to TMZ, Heard appeared in court on Friday with her lawyer and various pictures of the alleged abuse. TMZ reported that this was not an isolated incident, and that the picture of her bruised right eye was taken after Depp allegedly physically assaulted Heard with an iPhone.
Depp and Heard married in February 2015. The couple originally met on the set of The Rum Diaries in 2009, and began dating in 2012 after Depp split from long-time girlfriend Vanessa Paradis. By January 2014, Depp and Heard were engaged. During their 15-month marriage, they came into the spotlight when they got into a spot of trouble with the Australian government, after bringing their two Yorkshire Terriers into the country without going through the proper quarantine.
The divorce and filed restraining order have all happened in quick succession, all while Depp has been abroad promoting his latest film, Alice Through the Looking Glass, and fans have shared their support for Heard on social media. Both actors, as well as Heard and Depp's representatives, have yet to comment publicly on the restraining order and allegations of domestic violence.