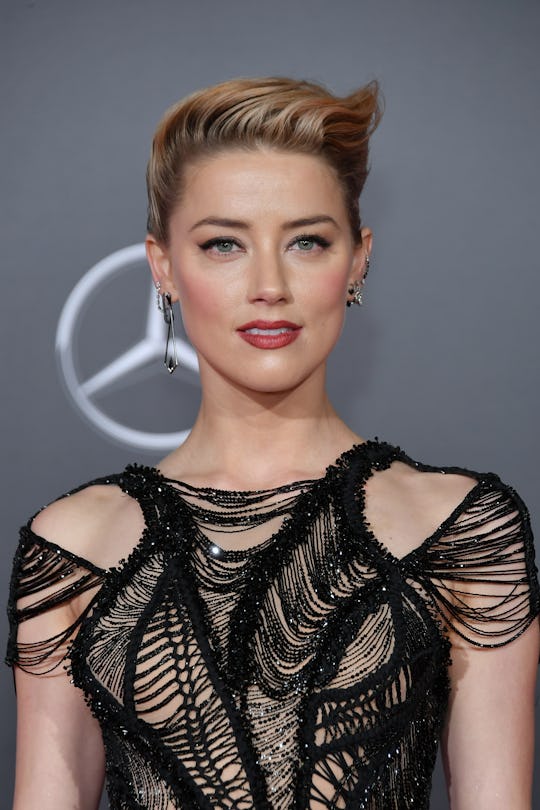 Neilson Barnard/Getty Images Entertainment/Getty Images
Amber Heard Shuts Down J.K. Rowling's Statement About Johnny Depp
During a year in which many women have felt more seen and more believed than ever, there's one actress who hasn't been treated with quite the same amount of credibility or respect. Ever since she filed for divorce from Johnny Depp last year, alleging domestic violence, she's been openly named a number of unpleasant things by members of the public — while other, bigger names have shown their disbelief of Heard through their actions and support for Depp. Case in point? On Thursday night, Heard responded to J.K. Rowling's defense of Johnny Depp, and it's a statement Heard really shouldn't have had to make in the first place.
Heard's response came after Rowling published a blog post on Thursday defending her and Warner Bros' decision not to recast the character of Gellert Grindelwald — played by Depp in the first movie — for the new Fantastic Beasts and Where to Find Them sequel. Writing on her personal website, Rowling explained:
For me personally, the inability to speak openly to fans about this issue has been difficult, frustrating and at times painful. However, the agreements that have been put in place to protect the privacy of two people, both of whom have expressed a desire to get on with their lives, must be respected. Based on our understanding of the circumstances, the filmmakers and I are not only comfortable sticking with our original casting, but genuinely happy to have Johnny playing a major character in the movies.
Later in the day, Heard simply reposted her and Depp's full joint statement about the divorce on Twitter:
"For the record, this was our FULL joint statement," Heard wrote as a caption to the statement. "To pick [and] choose certain lines [and] quote them out of context, is not right. Women, stay strong."
Romper reached out to Rowling's reps for comment, but did not hear back immediately. And to be clear, Depp's attorney repeatedly denied all allegations of domestic violence in 2016, as Depp and Heard's divorce took over headlines and Heard filed a restraining order against the Pirates of the Caribbean actor. Depp's representative did not respond to Romper's request for additional comment.
Although Heard didn't address Rowling directly in her clapback, it's likely she was responding to both the Harry Potter author and others on the Fantastic Beasts team. After all, not only did Rowling defend Depp, but so did Fantastic Beasts director David Yates and Warner Bros as a whole. Their statements all largely focused on the portion of Depp and Heard's joint statement that read, "There was never an intent of physical or emotional harm."
"This matter has been jointly addressed by both parties, in a statement in which they said 'there was never any intent of physical or emotional harm,'" Warner Bros said in a statement on Thursday, according to The Hollywood Reporter. "Based on the circumstances and the information available to us, we, along with the filmmakers, continue to support the decision to proceed with Johnny Depp."
Heard's response to Rowling and Warner Bros.' statements makes things perfectly clear. She's not asking the world not to employ Depp, nor is she asking for them to cast him aside for eternity. But in Warner Bros.' explanation for keeping Depp, the production essentially uses Heard's joint statement to discredit her. And if people are going to use Heard's own words in order to insinuate her allegations were a lie, the least they could do is include the entire statement.
Yes, Heard said there was no "intent of physical or emotional harm" — but both she and Depp also called the relationship "volatile" and insisted there had been no false allegations made. To use only one part of her statement is misleading.
In cases like this — where people cannot retroactively go back and get a peek at intimate details of Heard and Depp's relationship several years ago — there are undoubtedly going to be people who fall on both sides of the allegations. For Depp's daughter and ex-partners to release statements sharing their own personal experiences with Depp is a natural reaction (even if, of course, how one relationship played out doesn't necessarily predict how another will). And yes, employers will eventually go back and work with people accused of egregious acts.
But in this case, if Warner Bros. and Rowling are really intent on working with Depp again — a decision many fans have disapproved of — they could have simply stated that, due to their professional relationship with Depp and the lack of a court determination, they had decided to continue working with the actor. There was no need to imply lying on Heard's behalf or to use her words against her. And by choosing to do so, they've done a great disservice to victims of domestic violence and the women who look up to them.