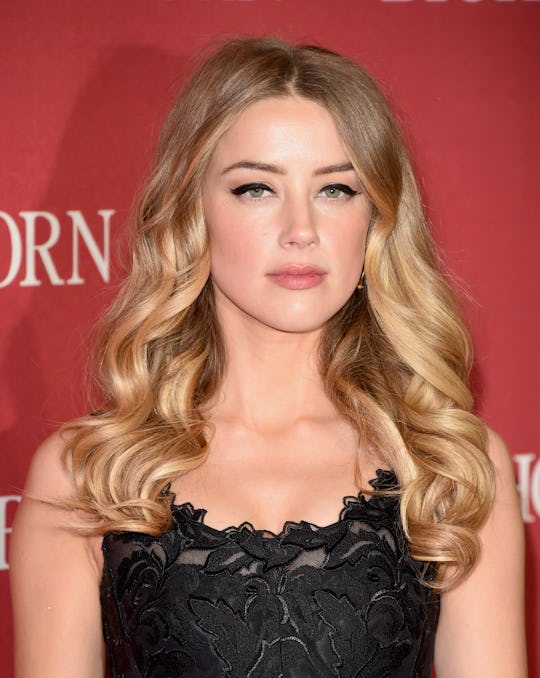 Jason Merritt/Getty Images Entertainment/Getty Images
Amber Heard's Lawyer Says Blackmail Claims Are BS & Things Just Got Much More Complicated
After staying pretty quiet regarding the response to her filing a restraining against husband Johnny Depp on Friday, Amber Heard's camp has finally spoken out. On Tuesday, Heard's lawyer said that blackmail claims against his client were completely out line. The actress filed a restraining order against Depp last week, alleging that he was physically and emotionally abusive on numerous occasions throughout their relationship.
Although she was granted the restraining order, that hasn't stopped many in Hollywood, including Depp's ex-wife Vanessa Paradis, and onlookers who know nothing (seriously, people, we know nothing) from speculating that Heard was making this whole darn thing up to ensure that she would receive spousal support.
Heard's lawyers responded to a guest column published over at The Wrap this weekend written by Doug Stanhope. In the column titled, "Johnny Depp Is Being Blackmailed By Amber Heard & Here's How I Know," the comedian posited that Heard had allegedly stated out loud on multiple occasions that she would make abuse claims. As a personal friend, he said Depp was reportedly worried about this all along. Today, Heard's lawyers responded directly to the piece.
In a letter to The Wrap referencing the column, Peter Sample, one of Heard's legal representatives, went to town denying the allegations. He wrote that Stanhope's claims were "outrageous," that the writer "[had] no basis in reality," and that Stanhope was "nothing but the typical celebrity muckraking for profit." Sample added that the blackmail rumors are "absolutely and unequivocally false."
Following news that the couple had filed for divorce last week, Depp had originally stated that he wasn't planning on paying any alimony or for Heard's legal fees. (The couple didn't have a prenup.) Most of the speculation surrounding the news revolved around whether or not Amber Heard was reportedly manipulating Depp for spousal support.
In his piece on The Wrap, Stanhope referenced one of the alleged attacks Heard included in her initial statements that speak to this reported "manipulation" specifically. Heard had alleged that Depp returned after a month-long absence once he heard about his mother's death. Heard alleges that Depp was inebriated and that their interactions devolved into a violent fight, leading to the bruise on her face that has now been circling the Internet.
Stanhope told an entirely different story in his column this week, claiming that Depp was reportedly heartbroken and scared that Heard was threatening to say he had beaten her unless she got spousal support.
This is the very definition of "he said/she said." (As well as "the entire Internet said.") The fact of the matter is that no one knows what went on during Heard and Depp's marriage. When you mix together two super famous celebs, the fact that relationships are complicated, and the stigma surrounding women who report ("alleged") abuse and toss it into the digital universe, it's a recipe for disaster.
This all got very ugly, very quickly. There are as many think pieces and statements from other stars stating that they were surprised by the allegations as there are reports of Depp being allegedly violent in the past, with other women. One thing is very clear though: No one is innocent until proven guilty on social media. The reactions to Heard's allegations of abuse and her request for spousal support in the divorce are appalling. Then again, there is a lot about this story that is pretty appalling.
At this point, it seems like both parties should start focusing on resolving this situation as quickly as possible. All of the back and forth is giving me whiplash. Bad relationships are bad enough, despite any allegations of abuse. Moving on might be even more difficult for both parties, no matter how it ends.