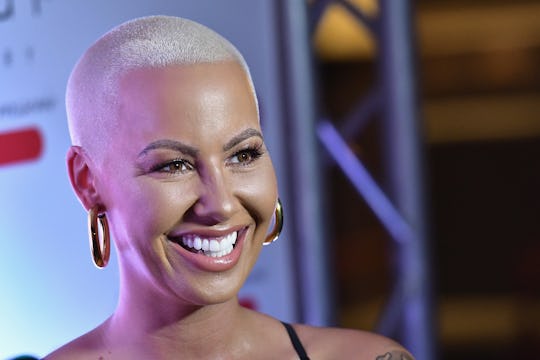 Gustavo Caballero/Getty Images Entertainment/Getty Images
Amber Rose Shut Down Trolls Shaming Her Son For Liking Taylor Swift & Did Not Hold Back
You know what? The world doesn't deserve Amber Rose, given the way she always stands up for people, especially herself and those close to her, even when she shouldn't have to. After people called her son "gay," as if it were an insult, on social media Wednesday, Amber Rose shut down the trolls shaming her 5-year-old son for liking Taylor Swift. Again, she shouldn't have had to say anything, but I'm glad she did. Because people need to know how awful they are and that kids love all kinds of things when they're young. (And throughout their entire lives.)
Rose has a son named Sebastian with fellow rapper Wiz Khalifa. She posted two videos on Instagram on Wednesday, with the caption "thank you Taylor Swift." The first video is so cute, with Rose handing a VIP Reputation-themed box to him, saying that Taylor Swift sent it just for him.
"She did?" Sebastian says, his eyes as wide as anything. He struggles with the box, so Rose steps in to help him open it, and the little guy goes, "This is going to be so exciting," rocking back and forth in that way 5-year-olds do when they, you know, literally cannot even.
He pulls out an envelope, going, "Oh my god, she sent me a letter." The excitement and awe is so very, very real. In the next video, he's still trying to process the fact that there's a huge Reputation swag box, tickets, and an IRL letter to him and his mom. He's a true Swiftie. "Thank you, Taylor" he says to the camera.
Really, How Can You Hate On This Cutie?
The comments on the video were terrible. One person wrote, "I'm not trying to criticize or make fun of but most 5 year old boys want an action figure or some kind of video game not Taylor swift tickets." Another piled on, attacking Wiz, too, writiting, "Sad who gets a little boy tickets to taylor swift concert.... you doing your best 2 make this boy gay while wiz sits back and allows it where are the real fathers."
Luckily, others pointed out how ridiculous people were being. One commenter wrote, "oh my god this is so cute! My son loves @taylorswift too!! We blast her in the car rides and dance parties!! I hope he has a blast at the concert!! If you post videos I'll have to show my little guy!!" Another pointed out, "So cute! Her music is so age appropriate, most of these trolls allow their kids to listen to very explicit music. So don't pay any attention to the haters."
But Rose was not about to let people get away with attacking her son. Because for one, you can't "make" someone gay, as some suggested she was doing. Suggesting that a child at 5 years old has a sexual orientation is also a little off. Also, the kind of music (or clothes, or shoes, or hairstyle) someone likes doesn't "make" a person gay either. But most importantly, being gay is not a bad thing! And kids should feel free to love whatever they want, whether it's T-Swift or an action figure.
Amber Rose Cleared All This Up In An Instagram Story
Rose is no stranger to making sure everyone feels comfortable being themselves. She hosts an annual "Slut Walk," which is all about shutting down rape culture, victim-blaming, stigmatizing sex work, and empowering people to be everything they want to be.
It hasn't always been easy for the outspoken star. After breaking up with Kanye West, Rose was harassed a online by fans for being — of course — "a slut." West himself attacked Rose, Khalifa, and her son Sebastian in a 2016 tweet rant. In a now deleted tweet, according to The Wrap, West wrote of Khalifa:
4th you let a stripper trap you. 5th I know you mad every time you look at your child that this girl got you for 18 years. 6th don't ever come out the side of your neck at me.
She responded to the fairly sexist attack on her and her family on a 2017 episode of Everyday Struggle. Rose said, according to Complex, "I still have never said anything mean about Kanye. This is after six, seven years of constant bullying from him." She added:
I was quiet for so long. I could have got a reality show just off the fact that I was his girlfriend. I could have wrote a book just off the fact that I was his girlfriend. I said, you know what? I'm a real ass bitch. I'mma take the high road and work my a** off, and I'm going to get everything I get on my own, so nobody can be like, "Yo I gave her that."
I'll give it to her. Rose tends to go high when people go low, which is something the world could use a lot more of these days. Learning how to shake it off and stand up for yourself is not an easy skill to master and she's definitely starting the lesson early for Sebastian. I hope Sebastian dances his butt off at the concert and has the best, VIP, time.
Check out Romper's new video series, Bearing The Motherload, where disagreeing parents from different sides of an issue sit down with a mediator and talk about how to support (and not judge) each other's parenting perspectives. New episodes air Mondays on Facebook.