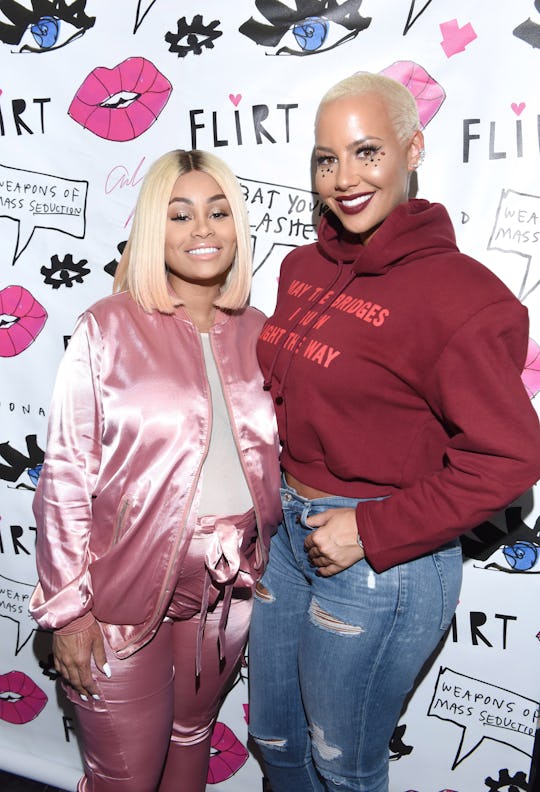 Vivien Killilea/Getty Images Entertainment/Getty Images
"Auntie" Amber Rose's Sweet Instagram With Dream
When I had my first baby, one of my favorite things to do was to have my best friend come over to hang with us. And not just because that was literally the only way I could shower or eat; There is just something about the way your best friend loves up on your baby that is utterly unique. Which is why this Instagram pic of Amber Rose with Dream is so truly sweet.
The 33-year-old model and talk show host (The Amber Rose Show on VH1) was enjoying a little bonding time with her her BFF Blac Chyna's baby, Dream, this week. The 2-month-old baby, whose father is reality star Rob Kardashian, brother of that Kardashan brood, looked to be soaking up all the Amber Rose love in the pic. Which makes sense, considering Rose is a veteran mom of 4-year-old son Sebastian Taylor with ex-husband Wiz Khalifa.
Rose, who apparently calls herself Dream's "Auntie Muva", was one of the first visitors to the hospital to see baby Dream after she was born on Nov. 10. She called her "a dream come true" at the time on Instagram, and it looks like the feeling might be mutual, if Dream's contented little face is any sort of barometer.
Of course, both Blac Chyna and little Dream's "Auntie Muva" will be able to offer some direction as to the art of the selfie. Whether the two BFFs are showing off their curves or showing off their babies, their social media game is tight. Rose is all over sharing amazing, sweet pics of her little boy Sebastian, or "Pumpkin" as she calls him, who is all kinds of adorable.
Meanwhile, Dream Kardashian has a whole lot to live up to in the social media department; Her last name is Kardashian, after all. And her mother is a model. Here's hoping the girl isn't camera-shy or she could be in trouble. She already has over 900,000 followers on Instagram, and she can't even walk yet.
Luckily for Dream, it looks like she might be able to find a way to strike a little balance within the crazy famous family she was born into. She has her dad, Rob Kardashian. During a visit to the doctor, when two-month-old Dream was getting her shot, Kardashian posted a picture of himself kissing her little head with the caption:
She is the best and I love her so much and I thank God every day for her cuz she is the best and she is my best friend.
Add that to the love she's already getting from mom Chyna and "auntie" Rose, and it seems little Dream is pretty set on the adoration front.