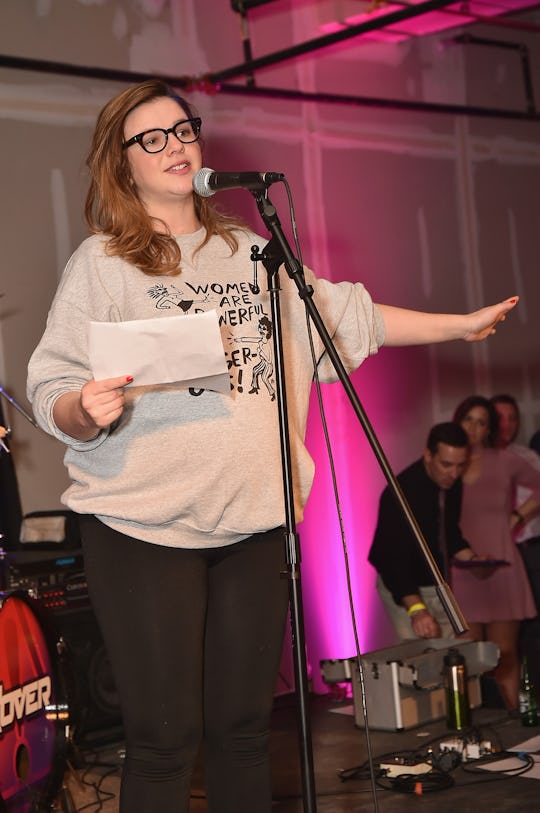 Theo Wargo/Getty Images Entertainment/Getty Images
Amber Tamblyn Is Proud To Be A Feminist
In a nation where women's rights are at stake, there has never been a more important time for women, especially for celebrities, to stand up for one another and their rights. Actress Amber Tamblyn is a proud feminist and just one of those who are bravely speaking out, despite the fact that not everyone is welcoming of that dialogue. Further, some of the best feminist quotes by Tamblyn, from her own writings and interviews she's given over the years, prove that she's an absolute badass and serves as an inspiration to all.
Tamblyn is proud to associate herself with feminist causes. This past January, she participated in the Women's March on Washington, with an estimated crowd of nearly 500,000 marchers. Tamblyn knows a thing or two about being part of a group of bad ass women: She was part of the ensemble cast of The Sisterhood of the Traveling Pants films, which share a feminist message of supporting other women.
Tamblyn's candidness about feminism and various topics women face daily, including sexual assault and what it means to be a women in 2017, is admirable. She gives a voice to others where they may not be able to speak up for themselves and provides a reality check to society when it needs it most. Check out a few of her most real AF quotes below:
On Men Without Women
While Tamblyn is known for being an actress in Hollywood, she is also a poet, lending her writing to actress Amy Poehler's website, Smart Girls, and a number of other outlets (she's also published three books of poetry). One day prior to March's Day Without a Woman strike, Tamblyn's poem, "Uncertainty: A Day Without Women," was published on the Smart Girls website — and while the whole poem (which is about life without women) is worth reading, one part absolutely stands out from the rest:
Because, who gave them life?
What is life, They ask each other.
What is life without women?
On Her Daughter's Future
Last month Tamblyn gave birth to a daughter, her first child with husband, David Cross. In an essay penned for Glamour last October, Tamblyn announced her pregnancy and wrote that she was voting for Democratic presidential candidate and former Secretary of State Hillary Clinton in the 2016 presidential election, for her daughter's sake. She explained:
I'll be voting for more than just a woman; I'll be voting for a revolutionary idea. I'll be voting for a future for my daughter where conversations about our bodies and our lives are broader than what value they have for men. A future where being a mother is less about warning our daughters about our sons and is instead lifting them up to their greatest potential.
Shortly after President Donald Trump was inaugurated and after Clinton's loss, Tamblyn revealed to Cosmopolitan she still had high hopes for her daughter's future now that her future is more uncertain than ever before. "She'll be born into an era under somebody that, I can only hope as a mother, will be the opposite of who she is," Tamblyn said. "I don't know what she is going to be like, I don't know what she's going to want, I don't know if she's even going to want to be a she. That's totally up to her."
On Hillary Clinton
During the 2016 presidential election, Tamblyn was an outspoken supporter of Clinton. In an essay for Bust, Tamblyn wrote about the importance of having a woman be nominated for the role of president; She also wrote a letter to Hillary Clinton in Glamour the day after Trump won the election. In that letter, Tamblyn highlighted the importance of Clinton's role in helping women believe in themselves and stand for their rights, saying:
You are a major part of a revolution that has been grinding inside each and every one of us for generations. You were the person we could collectively point to and finally say, "There. That is how our power manifests. That is how our power threatens. That is how our power is mythologized. That is how our power is taken from us. That is our power is earned. That is how our power will be reborn, handed down, and strengthened. That is how our power is dangerous, in the best way possible. That is our our power empowers."
On Supporting Other Women
In that same Glamour essay, Tamblyn lent women advice in recuperating from the results of the election and delivered this amazing feminist message:
I want you to know that I am here for you, I will do whatever I can, as a public voice in your life, to stand beside you and protect your right to do so. You are not alone. Our country was founded as a result of our combined voices being heard. Voices that spoke up for other voices that could not be heard; the oppressed, marginalized, and silenced.
On Defining Feminism
While promoting her third book of poetry, Dark Sparkler, Tamblyn told Glamour what being a feminist meant to her — and her words are powerful. "The word itself means the exact same thing to me as the word God does — it's a spirituality that is deeply personal, deeply subjective, and deeply no one else's business," Tamblyn said. "You can identify the word however you want, it's just the non-exploration that is unacceptable to me."
In a later interview with Bustle, Tamblyn revealed her frustration with women not embracing the label of feminist. "Not embracing it is bullshit," she said. "When young girls tell me that, or I read that someone says they're not a feminist, it's like, well you actually can't not be one, because you have a vagina. Hate to break it to you, but you have to be. No matter what."
Tamblyn's passionate words about feminism show that she will be raising her young daughter the right way: She'll be supportive of her and will undoubtedly be her daily reminder that her rights and life are valued.